Power Up Your Profits: 31 Days to Better Selling, 2nd Edition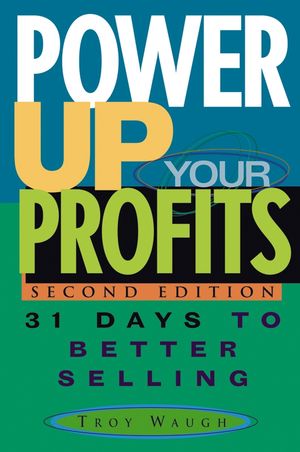 Power Up Your Profits: 31 Days to Better Selling, 2nd Edition
ISBN: 978-0-471-70358-7 January 2005 304 Pages
Description
Expert guidance for CPAs who want to become marketing savvy, improve profits, and gain satisfaction
This updated Second Edition demonstrates how combining the power of trust with the power of persuasion can help CPAs sell their services more effectively. Each chapter develops a key concept of marketing or selling that's easy to follow and shows how to apply the concepts to any CPA practice. Through a step-by-step approach to developing and mastering a stronger marketing and sales presence, this book focuses on how to dramatically enhance the reader's growth potential. It presents real-world examples from top CPA rainmakers and other marketing and management gurus, including Tom Peters. This updated second edition offers interviews covering Sarbanes-Oxley and the new accounting rules.
Troy Waugh, CPA (Nashville, TN), is founder, President, and CEO of The Rainmaker Academy, a comprehensive three-year leadership, client service, and practice development training program for CPAs.
Preface.
Acknowledgments.
Part One: Better Selling Starts with You.
Day 1: A Nontraditional Attitude.
Day 2: Selling Is a Learned Skill.
Day 3: Start a Consistent Marketing Program.
Day 4: Mind Share _ Market Share.
Day 5: Selling Takes Time.
Part Two: Target Better Clients.
Day 6: Leads, Leads, Leads.
Day 7: Focus on "10s".
Day 8: Marketing with Permission.
Day 9: Referrals Are Nuclear Power.
Day 10: Get Your Net Working.
Day 11: Managing Your Network.
Day 12: Co-opetition: Partnering for Better Business.
Part Three: Better Selling Helps Your Clients.
Day 13: Opportunity in the New Rules.
Day 14: Marketing and Sales Work Together.
Day 15: Selling Services Is Different.
Day 16: It's All About Communication.
Day 17: Power Sellers in the Accounting Industry.
Part Four: Power Tools for Better Selling.
Day 18: Newsletters Communicate to Sell.
Day 19: Speaking Attracts More Clients and Referrals.
Day 20: Advertising, Publicity, and Brochures.
Day 21: Online Marketing and Technology Consulting.
Day 22: Working with the Professionals.
Part Five: All Selling Is Personal Selling.
Day 23: Listening for Dollars, Talking for Dimes.
Day 24: Advancing Commitment.
Day 25: Focus: Building a Power Niche.
Day 26: Selling Value, Not Discounts.
Day 27: Your Differences Will Handle Objections.
Day 28: Pricing to Maximize Value.
Part Six: Extend Your Profits.
Day 29: Keeping Clients Sold: Service after the Sale.
Day 30: Clients Come Second: Five-Star Service.
Day 31: Invest First, Then Reap Powerful Profits.
Notes.
Bibliography.
Index.