Power in the Changing Global Order: The US, Russia and China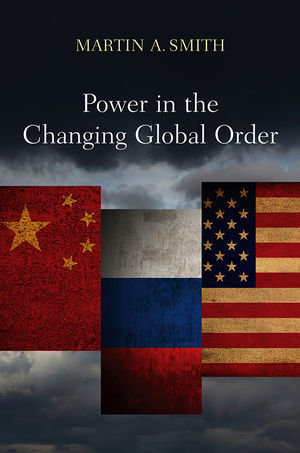 Power in the Changing Global Order: The US, Russia and China
ISBN: 978-0-745-66133-9
Apr 2013, Polity
224 pages
Description
Power has been compared to the weather: people discuss it all the time, but very few really understand it. This book seeks to demystify this complex concept by providing students with an incisive and engaging introduction to the shifting configurations of power in the contemporary global order.

Drawing on the work of leading international relations scholars, philosophers and sociologists, the analysis goes beyond simplistic views of power as material capability, focusing also on its neglected social dimensions. These are developed and explored through a detailed examination of the changing international role, status and capacities of the United States, Russia and China since the end of the Cold War. Far from achieving multipolarity, the book concludes that the contemporary world remains essentially unipolar; America having moved to correct the mistakes of George W. Bush's first term in office, while China and Russia have, in different ways, limited their own abilities to challenge American primacy.

This book will be essential reading for students of international relations and politics, as well as anyone with an interest in the shifting balance of power in the global system.
Acknowledgements
Introduction: Power in the Changing Global Order
1: Understanding Power
2: Power Resources
3: Hegemony, Unipolarity and the United States
4: The Multipolar Moment? The US and the World in the 1990s
5: A New Era? The George W Bush administration's War on Terror
6: Return to Multilateralism?
7: Russia as a Continuing or Reviving Great Power
8: The Russian Multipolarity Debates
9: China: Rising Power or Constrained State?
10: China, Anti Hegemonism and Harmony
Conclusions
Notes
Index
Winner of the Choice award for Outstanding Academic Title
"A great introduction to theoretical and practical aspects of power, with detailed case studies and a convincing narrative."
Global Policy
"Presents its evidence in a convincing manner and deserves to attract interest for skilfully including many classical and non-western thinkers in its analysis ... The book will be of use to scholars at any level but may especially appeal to students."
Central European Journal of International and Security Studies
"This book offers an in-depth analysis of the social dimension of power, and the important costs to states if they neglect it. The latter is a lesson that the Bush administration could have learned and one which many Middle Eastern governments are learning in the wake of the Arab Spring. Changes in the perceived legitimacy of power can have major effects even if material and coercive abilities remain the same."
Mark L. Haas, Duquesne University
"'Power' - a term too often subject to imprecision and flabby usage - is, in Martin Smith's hands, a means to understanding the core dynamics of international politics. States remain central - and American primacy, so often written off in light of China's rise to global prominence, is seen as an enduring reality. But this is a primacy that is social as much as material, and hence it has to be earned and exercised wisely. The US cannot simply go it alone, and neither - the Bush era would suggest - should it. Smith weaves these themes expertly within a grand narrative of global political change. But his panoramic overview of the post-Cold War world does not give rise to abstraction. This book's greatest virtue is its accessibility. Rarely have I read such a lucid treatment of its core subject. If the reader needed reminding why power still matters, then start here."
Mark Webber, University of Birmingham
"A complex research unveiling the enigma of power. The book provides detailed theoretical analysis of US and Russian power phenomena supported by case studies and profound knowledge of actual political practice. The thought-provoking prognosis on the challenges originating from rising and reviving powers adds value to the book."
Dmitry Polikanov, PIR Center - the Russian Center for Policy Studies
This book provides an engaging and accessible introduction to the shifting dynamics of power in the contemporary world
Draws on international relations, philosophy and sociology to outline a sophisticated theory of the social dimensions of power
Gives an expert account of the changing status of the US, Russia and China since the end of the Cold War
Will be essential reading for students of international relations, as well as anyone with an interest in global politics.