Powerful Learning: What We Know About Teaching for Understanding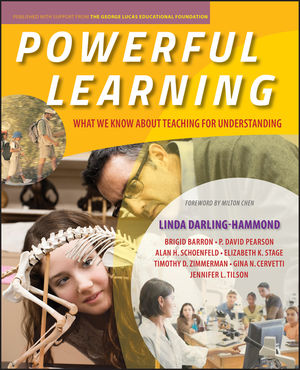 Powerful Learning: What We Know About Teaching for Understanding
ISBN: 978-1-119-18176-7
Jul 2015, Jossey-Bass
288 pages
Description
In Powerful Learning, Linda Darling-Hammond and an impressive list of co-authors offer a clear, comprehensive, and engaging exploration of the most effective classroom practices. They review, in practical terms, teaching strategies that generate meaningful K–2 student understanding, and occur both within the classroom walls and beyond. The book includes rich stories, as well as online videos of innovative classrooms and schools, that show how students who are taught well are able to think critically, employ flexible problem-solving, and apply learned skills and knowledge to new situations.

 
FOREWORD v
ABOUT THE AUTHORS ix
INTRODUCTION: TEACHING AND LEARNING FOR UNDERSTANDING 1
Linda Darling-Hammond
1 HOW CAN WE TEACH FOR MEANINGFUL LEARNING? 11
Brigid Barron and Linda Darling-Hammond
2 READING FOR UNDERSTANDING 71
P. David Pearson, Gina N. Cervetti, and Jennifer L. Tilson
3 MATHEMATICS FOR UNDERSTANDING 113
Alan H. Schoenfeld
4 TEACHING SCIENCE FOR UNDERSTANDING 151
Timothy D. Zimmerman and Elizabeth K. Stage
5 CONCLUSION: CREATING SCHOOLS THAT DEVELOP UNDERSTANDING 193
Linda Darling-Hammond
APPENDIX 213
BIBLIOGRAPHY 225
SUBJECT INDEX 257
NAME INDEX 267
Influential author. Linda Darling-Hammond is a nationally-recognized expert in education. She is currently involved in congressional briefings on improving NCLB.

High-profile partner with large outreach to market. The George Lucas Educational Foundation is a major force in pushing education forward. Over 100,000 "change agents of education" subscribe to GLEF's magazine, Edutopia.

Essential information. Clear, comprehensive, and succinct highlight of the most effective teaching and learning strategies to support meaningful learning.

Accessible and practical. Classroom vignettes illustrate the best strategies.

Authoritative content area coverage. The leading education experts in the content areas--language arts, science, and math--distill key findings in an "all-in-one" format.