Powerful Programming for Student Learning: Approaches That Make a Difference: New Directions for Student Services, Number 90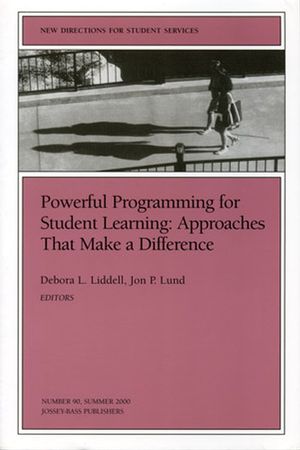 Powerful Programming for Student Learning: Approaches That Make a Difference: New Directions for Student Services, Number 90
ISBN: 978-0-787-95443-7 July 2000 Jossey-Bass 110 Pages
Description
Over the past four decades, programming has continued to be a viable strategy for transmitting knowledge, affecting skills development, changing attitudes, and helping students reach their potential both on and off campus. This volume will assist student affairs professionals as they plan, implement, and evaluate their educational interventions on college and university campuses. From planning a lunchtime seminar to conducting a semester-long support group, this sourcebook will provide readers with guidance on implementing programming that is powerful, relevant, and focused on learning. The contributors detail each step of program assessment, planning, implementation, and outcome evaluation. They explain the importance of collaborating with faculty and others, illustrating several types of programming partnerships with four brief case studies and examine the significant partnership aspects that led to programming success. The contributors also explore two of today's most relevant programming topics--multicultural competence and sexual violence--and provide an overview of a number of promising programs covering such areas as service learning, leadership, community-building, alcohol awareness, and diversity.

This is the 90th issue of the quarterly journal New Directions for Student Services.
Assessing Programmatic Needs (Diane L. Cooper, Sue A. Saunders).
Developing Interventions That Focus on Learning (Debora L. Liddell, Steven Hubbard, Rochelle Werner).
Partnerships in Programming: Relationships That Make a Difference (Ann C. Highum, Jon P. Lund).
Programming: Nuts and Bolts (M. Celine Hartwig).
Knowing What Works: Program Evaluation (Margaret A. Healy).
Programming for Multicultural Competencies (Mary Howard-Hamilton).
Programming for Men to Reduce Sexual Violence (Tracy Davis).
Promising Practices in Programming: An Annotated List of Model Programs (Heather O'Neill).