Powerlines: Words That Sell Brands, Grip Fans, and Sometimes Change History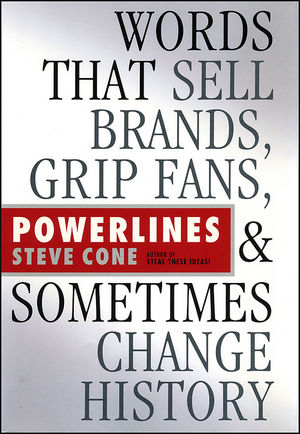 Powerlines: Words That Sell Brands, Grip Fans, and Sometimes Change History
ISBN: 978-0-470-88529-1 May 2010 288 Pages
Description
Powerlines, the exceptional slogans that people remember long after the campaign ends, stand out from the barrage of marketing messages consumers face each day. A product, service, company, candidate, or an organization with a powerline outshines the competition every time.

Steve Cone, author of Steal These Ideas!, reveals the secrets to contemporary marketing's biggest mystery: how to conjure the phrase that will make a product irresistible and memorable. This book restores the lost art of creating killer slogans to its proper place: front and center in every campaign.

Drawing on examples of great and not-so-great lines from marketing, politics, and popular culture, Cone provides an irreverent, intelligent, and insightful primer on a singularly important aspect of brand building.

Silver Medal Winner, Advertising/Marketing/PR/Event Planning Category, Axiom Business Book Awards (2009)
Introduction: Car 54, Where Are You?
Part One: Powerlines.
Getting the Right Few Words to Every Nook and Cranny on the Planet.
1 Powerlines Defined.
Factors Distinguishing Powerlines from 99 Percent of All Written and Spoken Language.
2 Powerlines Take to the Air.
Radio, Television, and Powerlines: A Match Made in Heaven.
Part Two: The Powerline Perspective.
Countries, Candidates, Cultures, and Companies Rise or Fall on Powerful Lines, Mottos, and Sayings.
3 Uncle Sam Wants You, Your Mind, and Your Money.
How Governments Win Hearts, Minds, and Paychecks.
4 You Can't Put the Toothpaste Back in the Tube.
Why the Candidate with the Best Slogan Wins the Race.
5 Shots Heard Round the World.
How Eloquent Speakers and Writers Make Us Think and Rethink.
6 There Is Nothing Wrong with Your Television Set.
How Writers and Marketers Keep All Eyes Glued to the Screen.
Part Three: Put a Powerline in Your Tank.
Putting Powerlines to Work in a Marketing Campaign.
7 When It Rains It Pours.
Getting the Brand Promise Through—Whether Customers Want to Hear It or Not.
8 Jingles All the Way.
Commanding Attention with Music and Jingles.
9 The Gun That Won the West.
Transforming Ordinary Products into Extraordinary Brands.
10 Character Building.
Speaking in a Distinctive Voice: The Persuasive Power of Characters from Pitchmen to Spokescharacters to Spokespeople.
Revelations.
Notes.
Bibliography.
Index.