Practical Analysis of Flavor and Fragrance Materials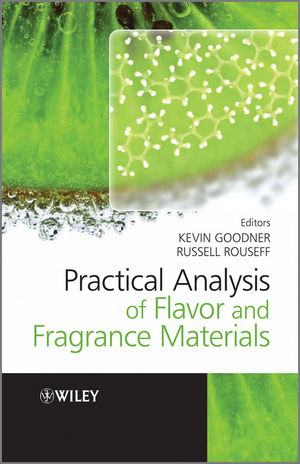 Practical Analysis of Flavor and Fragrance Materials
ISBN: 978-1-119-97521-2 June 2011 Wiley-Blackwell 248 Pages
Description
Modern flavours and fragrances are complex formulated products containing blends of aroma compounds with auxiliary materials, enabling desirable flavours or fragrances to be added to a huge range of products. The flavour and fragrance industry is a key part of the worldwide specialty chemicals industry, yet most technical recruits have minimal exposure to flavours and fragrances before recruitment. The analytical chemistry of flavour and fragrance materials presents specific challenges to the analytical chemist, as most of the chemicals involved are highly volatile, present in very small amounts and in complex mixtures.
Analytical Methods for Flavor and Fragrance Materials covers the most important methods in the analysis of flavour and fragrance materials, including traditional and newly emerging methodologies. It discusses the capabilities of the various analytical methods for flavour and fragrance analysis and guides the newcomer to the most appropriate techniques for specific analytical problems.
Table of contents
Preface.
About the Editors.
List of Contributors.
1 Overview of Flavor and Fragrance Materials (David Rowe).
1.1 Flavor Aroma Chemicals.
1.2 Flavor Synthetics.
1.3 Natural Aroma Chemicals.
1.4 Fragrance Aroma Chemicals.
1.5 Materials of Natural Origin.
Acknowledgments.
References.
2 Sample Preparation (Russell Bazemore).
2.1 Introduction.
2.2 PDMS.
2.3 Static Headspace Extraction.
2.4 Dynamic Headspace Extraction.
2.5 Solid Phase Microextraction (SPME).
2.6 Stir Bar Sorptive Extraction.
2.7 PDMS Foam and Microvial.
2.8 Solvent Extraction.
2.9 Summary.
References.
3 Traditional Flavor and Fragrance Analysis of Raw Materials and Finished Products (Russell Rouseff and Kevin Goodner).
3.1 Overview.
3.2 Physical Attribute Evaluation.
3.3 Instrumental Analysis.
References
4 Gas Chromatography/Olfactometry (GC/O) (Kanjana Mahattanatawee and Russell Rouseff).
4.1 Introduction.
4.2 Odor Assessors' Selection and Training.
4.3 Sensory Vocabulary.
4.4 GC/Olfactometers (Sniffers).
4.5 Practical Considerations.
4.6 Types of GC-Olfactometry.
4.7 Sample Introduction.
4.8 Identification of Aroma-active Peaks.
4.9 Conclusion.
References.
5 Multivariate Techniques (Vanessa Kinton).
5.1 Introduction.
5.2 Hierarchical Cluster Analysis (HCA).
5.3 Principal Component Analysis (PCA).
5.4 Classification Methods.
5.5 Principal Component Regression.
5.6 Example of Data Analysis for Classification Models.
References.
6 Electronic Nose Technology and Applications (Marion Bonnefille).
6.1 Introduction.
6.2 Human Smell and Electronic Noses.
6.3 Techniques to Analyze Odors/Flavors.
6.4 The Main Criticisms Directed at the Electronic Nose.
6.5 Market and Applications.
References.
7 MS/Nose Instrumentation as a Rapid QC Analytical Tool (Ray Marsili).
7.1 Introduction.
7.2 Operating Principle.
7.3 Advantages of MS over Solid State Sensors.
7.4 Using Other Sample Preparation Modes.
7.5 Techniques for Improving Reliability and Long-term Stability.
7.6 Two Instruments in One.
7.7 Application Examples.
7.8 Classification of Coffee Samples by Geographic Origin.
7.9 Classification of Whiskey Samples by Brand.
7.10 Future Directions: Partnering MS/Nose with GC/MS.
7.11 Conclusion.
References.
8 Sensory Analysis (Carlos Margaria and Anne Plotto).
8.1 Introduction.
8.2 The Purpose of Sensory Analysis.
8.3 Flavor Perception.
8.4 Sensory Analysis Techniques.
8.5 Preparation and Planning.
8.6 Panel Selection.
8.7 Conducting a Panel.
8.8 Expression of Results.
8.9 Final Words.
References.
9 Regulatory Issues and Flavors Analysis (Robert A. Kryger).
9.1 Introduction.
9.2 Regulatory Overview.
9.3 Specific Regulatory Issues.
References.
Index.
Reviews
"Written by experts in their field, the book lives up to the promise of the preface. It shows that contemporary flavor analysis should join both instrumental and sensory data ("hybrid approach") to assess the specific standards of quality of food, cosmetics, perfumes, or home care products. Thus, it is a warmly welcomed book which belongs on the shelf of every flavor laboratory."  (Anal Bioanal Chem, 2012)
What's New
● Brings together the various instrumental techniques for carrying out flavor and fragrance analysis, with all the significant information in one place making it easily accessible to practitioners and students
● Written in an instructional style with a technique-focussed approach, the book shows the reader how various analytical methodologies can be applied to resolve real problems in flavor and fragrance analysis
● Brings non-experts up-to-speed quickly, comprehensively and economically, providing new entrants to the industry with a firm understanding of the basic analytical chemistry and technology employed