Practical Color Measurement: A Primer for the Beginner, A Reminder for the Expert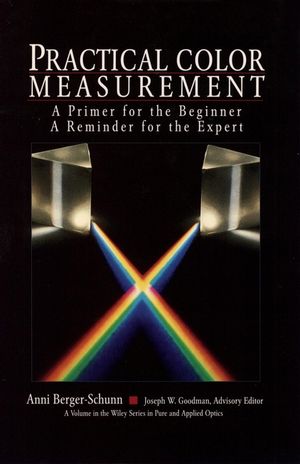 Practical Color Measurement: A Primer for the Beginner, A Reminder for the Expert
ISBN: 978-0-471-00417-2
May 1994
192 pages
Description
"How large are the differences between the two samples to be matched?" "Can I use the measurement technique to help reproduce the color of a sample?" These two questions can be critical to the successful completion of a sale or the budgeting of a product, run, but they are not always easily answered. Some color measurement software systems give the appearance of greater accuracy than they can actually deliver. Practical Color Measurement tells you everything you need to know about the principles and limitations of computerized color measuring systems. Mathematics and optical theory are kept to a minimum, replaced by numerous real-life examples based on normal production samples, detailed tables, and the practical knowledge gained by Anni Berger-Schunn through many years of professional experience and research. You will learn how to:
* Apply critical analysis to the numbers supplied by color measurement systems
* Determine just how large the difference between two samples is Use the measuring technique to help reproduce the color of a sample And more
Description of Perceived Colors with the Aid of Numbers.

Calculation of Color Difference.

Metamerism.

Color Measurement Systems;
Measurement of Fluorescent Samples and Whiteness.

Correlation Between Reflectance (Transmittance) and Colorant Concentration, Examination of Colorant Strength, and Computer Color Matching.

Influence of the Sample on the Accuracy of Color Measurements.

Appendix.

Bibliography.