Practical Hemostasis and Thrombosis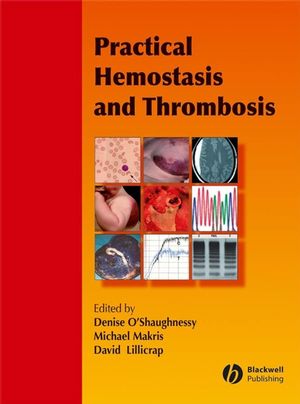 Practical Hemostasis and Thrombosis
ISBN: 978-1-405-15199-3
Apr 2008, Wiley-Blackwell
232 pages
Description
Provides a comprehensive yet concise and practical guide to the full range of clotting and bleeding disorders encountered in clinical practice.





Presented in three sections, this book informs and advises clinicians in all stages of diagnosis, management and prevention of thrombotic and hemostatic disorders.








Why Buy This Book?





Essential practical management for all those working in the field of haemostasis and thrombosis



A comprehensive yet concise and practical guide to the full range of clotting and bleeding disorders encountered in clinical practice.

Advice to guide clinicians through the diagnosis, treatment and prevention of thrombotic and haemostatic disorders

Each chapter to follow a standard template supplemented with a mini-contents list, key points, further reading and a summary box

Highlights controversial issues and provides advice for everyday questions
List of Contributors.
.
Part 1: The Laboratory Interface.
1. Basic principles underlying the coagulation system (O'Connell).
2. Laboratory tests of hemostasis (Kitchen and Makris).
3. Molecular diagnostic approaches to hemostasis (James and Lillicrap).
4. Tests of platelet function (Harrison).
Part 2: The Practice of Clinical Hemostasis and Thrombosis.
5. Hemophilia A and B (Maclean and Makris).
6. Von Willebrand disease (Castaman, Tosetto and Rodeghiero).
7. The rarer inherited coagulation disorders (Bolton-Maggs and Wilde).
8. Quantitative platelet disorders (Kahr and Blanchette).
9. Qualitative platelet disorders (Cattaneo).
10. Disseminated intravascular coagulation and other microangiopathies (Kasthuri and Key).
11. Venous thromboembolism (Linkins and Kearon).
12. Arterial thrombosis (Lowe and Tait).
13. Anticoagulation (Palareti and Cosmi).
14. Antiphospholipid syndrome (Watson).
Part 3: The Clinical Interface.
15. Obstetrics (Walker).
16. Pediatrics (Bauman and Massiocotte).
17. Intensive/critical care (Hunt and Stuart-Smith).
18. Cardiothoracic surgery (O'Shaughnessy and von Kier).
19. Hepatology (Patel and Arya).
20. Oncology (Falana and Marchetti).
21. Transfusion (Copplestone).
Appendices.
1. Normal ranges (Kitchen and Makris).
2. Useful Websites (Makris).
Index.
"...comprehensive rather than exhaustive, and the integration of clinical and laboratory aspects of the investigation of haemostatic disease will make this a valuable tool for both the clinician and scientist alike."
British Journal of Biomedical Science
Essential practical management for all those working in the field of haemostasis and thrombosis


Advice to guide clinicians through the diagnosis, treatment and prevention of thrombotic and haemostatic disorders

Each chapter to follow a standard template supplemented with a mini-contents list, key points, further reading and a summary box

Highlights controversial issues and provides advice for everyday questions