Practical Organic Synthesis: A Student's Guide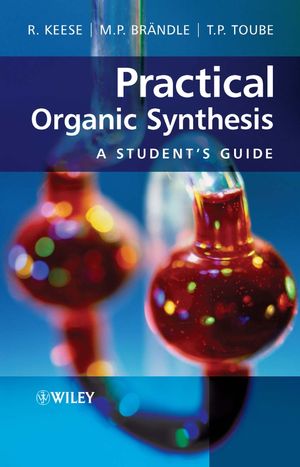 Practical Organic Synthesis: A Student's Guide
ISBN: 978-0-470-02966-4 June 2006 208 Pages
Download Product Flyer
Download Product Flyer
Download Product Flyer is to download PDF in new tab. This is a dummy description. Download Product Flyer is to download PDF in new tab. This is a dummy description. Download Product Flyer is to download PDF in new tab. This is a dummy description. Download Product Flyer is to download PDF in new tab. This is a dummy description.
Description
Success in an experimental science such as chemistry depends on good laboratory practice, a knowledge of basic techniques, and the intelligent and careful handling of chemicals.
Practical Organic Synthesis is a concise, useful guide to good laboratory practice in the organic chemistry lab with hints and tips on successful organic synthesis. Topics covered include:
safety in the laboratory
environmentally responsible handling of chemicals and solvents
crystallisation
distillation
chromatographic methods
extraction and work-up
structure determination by spectroscopic methods
searching the chemical literature
laboratory notebooks
writing a report
hints on the synthesis of organic compounds
disposal and destruction of dangerous materials
drying and purifying solvents
Practical Organic Synthesis is based on a successful course in basic organic chemistry laboratory practice which has run for several years at the ETH, Zurich and the University of Berne, and its course book Grundoperationen, now in its sixth edition.
Condensing over 30 years of the authors' organic laboratory teaching experience into one easy-to-read volume, Practical Organic Synthesis is an essential guide for those new to the organic chemistry laboratory, and a handy benchtop guide for practising organic chemists.
Cannot be combined with any other offers.
Original Price:$231.00
Purchased together:$173.25
save $57.75
Table of contents
Preface.
Chapter 1 Accident Prevention and First Aid..
1.1 Safety.
1.2 First Aid.
Chapter 2 Environmentally Responsible Handling of Chemicals and Solvents.
2.1 Dangerous and Poisonous Material.
2.2 Regulations.
2.3 Maximum Concentration Limits.
Chapter 3. Crystallisation.
Chapter 4. Distillation.
Chapter 5. Chromatographic Methods.
5.1 Principles.
5.2 Thin–Layer Chromatography.
5.3 Column Chromatography.
5.4 Flash Chromatography.
5.5 HPLC.
Chapter 6. Extraction and Work-Up.
Chapter 7. Structure Determination Using Spectroscopic Methods.
Chapter 8. Searching the Chemical Literature.
8.1 The Mountain of Information.
8.2 On-Line Databases.
8.3 Reviews.
8.4 Monographs and Handbooks.
8.5 Collections of Data.
Chapter 9. Laboratory Notebooks.
Chapter 10. Writing a Report.
Chapter 11. Example of a Laboratory Report.
Chapter 12 Hints on the Synthesis of Organic Compounds.
12.1 The Route to Success.
12.2 Handling Water and Oxygen Sensitive Substances.
12.3 Working at Low Temperatures.
12.4 Synthesis and Analysis of Optically Active Compounds.
12.5 Synthesis of Isotopically Labelled Compounds.
Chapter 13. Disposal and Destruction of Dangerous Materials.
13.1 Classification of Waste Material.
13.2 Environmentally Acceptable Substances for Treating Dangerous Materials in the Laboratory.
13.3 Special Instructions for the Destruction of the Main Classes of Dangerous Substances.
13.4 Deactivation of Unknown Laboratory Chemicals.
13.5 Waste Disposal.
Chapter 14. Purification and Drying of Solvents.
14.1 Some Drying Agents.
14.2 Solvents.
Chapter 15.EU R and S Phrases.
Index.
New To This Edition
Includes a new chapter about on-line chemical information retrieval in several databases
Reviews
"This is only a short book ... but [it] is what it sets out to be, and that is an excellent introduction. It is the sort of guidebook which would readily find use in organic laboratory courses." (
The Higher Education Academy Physical Sciences Centre
, December 2008)
"A good functional guide packed with useful tips for organic chemistry students, and a good companion to a laboratory manual." (CHOICE, January 2007)
Features
Provides students with an introduction to the fundamentals of preparative organic chemistry (and then may serve as a reference for their use as they continue their studies)
Includes hints and tips on successful organic syntheses
Discusses basic techniques used in every organic chemistry lab in detail for immediate practical use