Practical Portfolio Performance Measurement and Attribution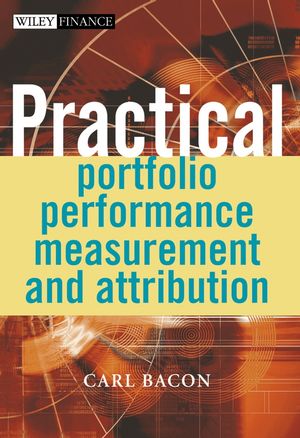 Practical Portfolio Performance Measurement and Attribution
ISBN: 978-0-470-85680-2
Apr 2005
240 pages
Description
Practical Performance Measurement and Attribution provides a clear introduction to the subject of performance measurement. Focusing more on the practical use and calculation of performance returns rather than the academic background it will help readers gain a clear understanding of the role and implications of performance measurement in today's financial environment.
 

""Carl's book is a 'must have' resource - the complete A to Z of the increasingly complex field of performance measurement.""
Glenn Solomon, Global Head of Institutional Clients, Investment Reporting & Performance, BNP Paribas Securities Services

""Internationally renowned authority Carl Bacon has provided what one would expect – an exceptionally well written and practical resource that every investment performance measurement professional should own.""
David Spaulding, President, The Spaulding Group

""Carl Bacon is one of the most knowledgeable professionals I know on the subject of Performance Measurement. He has been a pioneer, leader, and teacher at the forefront of developments in global investment performance standards, performance attribution technique, and risk measurement. I am very pleased he has written this timely and useful book as a complete reference and explanation update on these important subjects.""
James Hollis, Managing Director, Cutter Associates

""Though the subject matter is complex, Carl strikes the right balance between theory and reality. This book should have a permanent spot on the desk of every performance practitioner. I will refer to it often.""
Karyn Vincent, CFA, Vincent Performance Services LLC

""Whether you are a provider or a user of Performance Analysis, this book is well structured, informative and truly a practical guide in every sense.""
Gary Hilldrup, Global Head Performance, Risk & Client Reporting, Fortis Investments
About the Author.
Acknowledgements.
1 Introduction.
Why measure portfolio performance?
The purpose of this book.
Reference.
2 The Mathematics of Portfolio Return.
Simple return.
Money-weighted returns.
Time-weighted returns.
Time-weighted versus money-weighted rates of return.
Approximations to the time-weighted return.
Hybrid methodologies.
Which method to use?
Self-selection.
Annualized returns.
Continuously compounded returns.
Gross- and net-of-fee calculations.
Portfolio component returns.
Base currency and local returns.
References.
3 Benchmarks.
Benchmarks.
Peer groups and universes.
Notional funds.
Excess return.
4 Risk.
Definition of risk.
Risk measures.
Regression analysis.
Relative risk.
Return distributions.
Downside risk.
Fixed income risk.
Which risk measures to use?
Risk control structure.
References.
5 Performance Attribution.
Arithmetic attribution.
Brinson and Fachler.
Interaction.
Geometric excess return attribution.
Sector weights.
Multi-period attribution.
Smoothing algorithms.
Risk-adjusted attribution.
Multi-currency attribution.
Geometric multi-currency attribution.
Fixed income attribution.
Attribution standards.
References.
6 Performance Presentation Standards.
Why do we need performance presentation standards?
Advantages for asset managers.
The standards.
Verification.
Investment Performance Council.
Achieving compliance.
Maintaining compliance.
Reference.
Appendix A Simple Attribution.
Appendix B Multi-currency Attribution Methodology.
Appendix C EIPC Guidance for Users of Attribution Analysis.
Appendix D European Investment Performance Committee – Guidance on Performance Attribution Presentation.
Appendix E The Global Investment Performance Standards.
Bibliography.
Index.