Practical Problem Solving in HPLC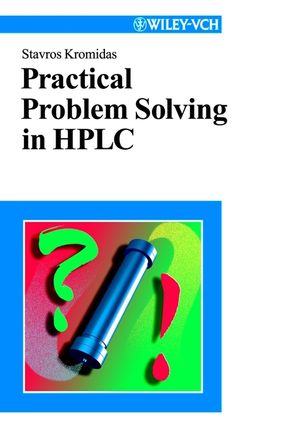 Practical Problem Solving in HPLC
ISBN: 978-3-527-29842-6 June 2000 193 Pages
Description
Quick and easy solutions to HPLC problems!
For 45 typical questions of HPLC users, the answer and general conclusions are presented on no more than 4 pages each. The book covers
- simple equipment tests and selection criteria for columns, buffers etc.
- specific problems and how to solve them
- options for optimizing separations.
The book also features a special chapter on the retention of ionizable components in RP-HPLC, references, data tables and check lists. It's a first-aid kit for every HPLC user.

Stavros Kromidas is managing director of NOVIA, a company offering consulting services and training courses for analytical laboratories. For five years he was sales manager for the HPLC manufacturer Waters in Germany. He is author and editor of numerous books.
Table of contents
Introduction
SIMPLE TESTS AND DECISION CRITERIA
Tip 01: What is in a name of a column material?
Tip 02: Is this C18 column the right choice for my sample?
Tip 03: Why are polar solutes well separated with one C18 column and barely with another?
Tip 04: How can I clean the RP-phase fast?
Tip 05: How do I best degas my mobile phase?
Tip 06: Methanol or acetonitrile?
Tip 07: The pH-value of the mobile phase is too high/too low - what to do?
Tip 08: Which is the right ionic strength of the buffer?
Tip 09: How to make sense of the dead volume of an isocratic equipment?
Tip 10: Taking over a gradient method - the influence of the instrumentation
Tip 11: Does the pump work correctly, precisely or accurately?
Tip 12: How to test an HPLC equipment and its modules?
Tip 13: Injection of solutes out of aqueous solutions
Tip 14: Which is the largest tolerable injection volume?
Tip 15: How critical are temperature changes? PartTip I: General comments, Detector
Tip 16: How critical are temperature changes? Part TIP II: Column, Separation
Tip 17: How to choose an HPLC equipment and a supplier?
Tip 18: Is the current method a robust one?
PROBLEMS AND THEIR SOLUTIONS
Tip 19: Sample preparation - how critical are which mistakes?
Tip 20: Flushing of an HPLC equipment
Tip 21: Junk in the UV detection cell
Tip 22: The lamp is new - what happened to the peak?
Tip 23: What are the causes for pressure changes or deviations?
Tip 24: Is the right or the left pump head defect?
Tip 25: Baseline noise and damping
Tip 26: The retention times increase - is it the pump or the mobile phase?
Tip 27: Which buffer is right for which pH-value?
Tip 28: An interesting alternative for the separation of acids and bases with buffer
Tip 29: What can be the reasons for a change in retention times?
Tip 30: I use up a lot of RP-columns, what should I do?
Tip 31: Why does my normal phase system not work anymore?
Tip 32: Chemical tailing at the presence of metal ions
Tip 33: How to avoid memory effects?
Tip 34: How do the default values on my PC affect the resolution?
HINTS TO OPTIMIZE THE SEPARATION
Tip 35: Which is the right injection technique to get sharper peaks?
Tip 36: My peaks appear too early - how can I move them in an RP system to later retention times?
Tip 37: How can I increase the plate number?
Tip 38: Limit of detectiTip on: how can I see more?
Tip 39: How can I speed up a separation?
Tip 40: How can I optimize a separation?
Tip 41: Dead volume, capacity factor, selectivity - how can I use them in every day life?
Tip 42: Which flow is optimal for me?
Tip 43: How can I optimize a gradient elution?
Tip 44: Separation of ionic solutes: what works out best - endcapped phases, inert phases, phosphate buffer or ion pairing reagents? Part I
Tip 45: Separation of ionic solutes: what works out best - endcapped phases, inert phases, phosphate buffer or ion pairing reagents? Part II
RETENTION OF IONIZIBLE COMPONENTS IN REVERSED-PHASE HPLC
Appendix
Reviews
"This book is a good reference source for HPLC laboratory practice, for operators both novice and expert. It is written in an approachable manner, illustrated with clear tables and working examples, which should enable a novice to achieve good results and an experienced operator to become more efficient."

John F. Kennedy, Carbohydrate Polymers, 2004, Vol. 55