Practical Public Health Nutrition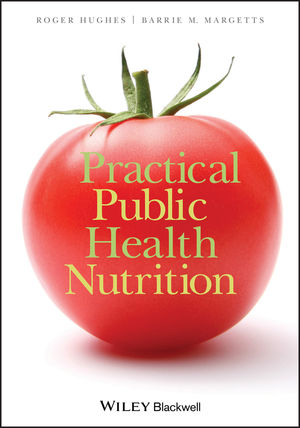 Practical Public Health Nutrition
ISBN: 978-1-444-32922-3
Nov 2010, Wiley-Blackwell
288 pages
Description
Providing the reader with a practice-focussed approach to public health nutrition intervention management, Practical Public Health Nutrition is a crucial resource for dietitians, community and public health nutritionists and related health professionals in need of a practical guide to practicing public health nutrition.

Internationally recognised experts Hughes and Margetts describe in detail the rationale, processes and tools that can be used to assess population needs, analyse problems and develop effective interventions at a community level.

Exercises in each section of the book contribute to a collective PHN intervention plan, providing the reader with the opportunity to demonstrate an outcome of intervention management.

Unique in its approach to teaching the practical applications of this increasingly crucial discipline, Practical Public Health Nutrition is a vital purchase for anyone working in the public health arena.
Clearly outlines the practice of PHN intervention management
Covers rationale, processes and tools needed to develop effective interventions at community level
Written by 2 internationally respected authorities on the discipline of Public Health Nutrition
Essential text for dietitians, community and public health nutritions and related health professionals
Preface.
Acknowledgements.
Glossary.
Part 1 Introduction and context.
1 The big picture: The context for a textbook on public health nutrition practice.
2 Defining public health nutrition as a field of practice.
3 A framework for public health nutrition practice.
Part 2 Intelligence.
4 Step 1: Community engagement and analysis.
5 Step 2: Problem analysis.
6 Step 3: Stakeholder analysis and engagement.
7 Step 4: Determinant analysis .
8 Step 5: Capacity analysis.
9 Step 6: Mandates for public health nutrition action.
10 Step 7: Intervention research and strategy options.
11 Step 8: Risk assessment and strategy prioritisation.
Part 3 Action.
12 Step 9: Writing action statements.
13 Step 10: Logic modelling.
14 Step 11: Implementation and evaluation planning.
15 Step 12: Managing implementation.
Part 4 Evaluation.
16 Step 13: Process evaluation.
17 Step 14: Impact and outcome evaluation.
18 Step 15: Evaluating capacity gains.
19 Step 16: Economic evaluation .
20 Step 17: Reflective practice and valorisation.
Appendices.
1 Intervention plan template.
2 Capacity building analysis tool.
References.
Index.
"This book by Roger Hughes and Barrie Margetts is a valuable tool for those working in PHN as it not only
summarises the steps that are necessary for successful intervention but it also provides a number of practical examples that will help understand each step of an intervention. It will also be of benefit to students as a key textbook, providing them with basic skills/knowledge in the area of PHN practice." (Journal Nutrition Bulletin, 1 September 2011)
Clearly outlines the practice of PHN intervention management
Covers rationale, processes and tools needed to develop effective interventions at community level
Written by 2 internationally respected authorities on the discipline of Public Health Nutrition
Essential text for dietitians, community and public health nutritions and related health professionals