Practical Speculation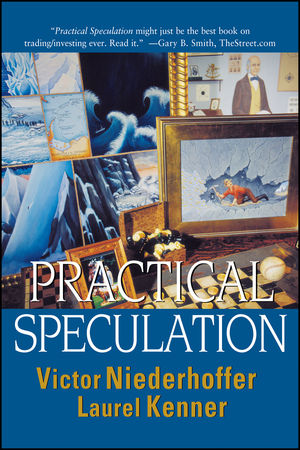 Practical Speculation
ISBN: 978-1-118-04567-1
Jan 2011
400 pages
Description
The follow-up to Victor Niederhoffer's critically and commercially acclaimed book The Education of a Speculator has finally arrived. Practical Speculation continues the story of a true market legend who ran a hugely successful futures trading firm that had annual returns of over thirty percent until unforeseen losses forced him to close operations. Like a phoenix rising from the ashes, Niederhoffer returned to the world of trading stocks, futures, and options, with a new colleague and a new approach and found success. Order your copy of this compelling story of risk and survival today.
Introduction.
PART ONE: MUMBO JUMBO AND MOONSHINE.
1. The Meme.
2. Earnings Propaganda.
3. The Hydra Heads of Technical Analysis.
4. The Cult of the Bear.
5. "We Are Number One" Usually Means "Not Much Longer".
6. Benjamin Graham: Mythical Market Hero.
7. News Flash: Computer Writes Stock Market Story!
PART TWO: PRACTICAL SPECULATION.
8. How to Avoid Spurious Correlations.
9. The Future of Returns.
10. The Periodic Table of Investing.
11. When They Swing for the Fences, We Run for the Exits.
12. Boom or Bust?
13. Market Thermodynamics.
14. Practical Market Lessons from the Tennis Court.
15. The Fine Art of Bargaining for an Edge.
16. An Amiable Idiot in the Biotechnology Revolution.
17. Earnings Impostors.
18. Finale.
Afterword.
Notes.
Index.