Practical Teaching in Emergency Medicine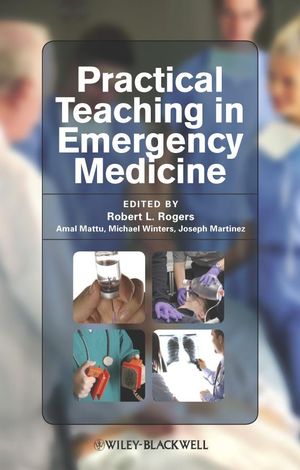 Practical Teaching in Emergency Medicine
ISBN: 978-1-444-30363-6 March 2009 Wiley-Blackwell 264 Pages
Description
Inherent to the teaching and practice of emergency medicine are specific challenges not found in other specialties - the unknowns of the emergency department, the need to identify life- and limb-threatening conditions, the pressure to solve problems and find solutions quickly, and the orchestration of clinical specialists and ancillary services.


Because of these unique demands, books written by clinicians from other disciplines, that extrapolate their information from other specialties, aren't always suitable references for teachers of emergency medicine. This book is different – it shows how to incorporate effective teaching strategies into the unique teaching atmosphere of the emergency department, how to effectively lecture, lead small groups, give feedback, foster life-long faculty development skills, and much more – it is written by emergency medicine physicians for emergency medicine physicians.


Practical Teaching in Emergency Medicine gets to the essential core of how to best teach the art of practicing emergency medicine – and provides the blueprint to become a better teacher, providing guidance on how to accomplish skilful teaching in busy emergency departments. It provides emergency physicians and trainees with the necessary tools to effectively and efficiently transmit information to learners in the often times chaotic emergency department environment.
Editors and Contributors.
Preface.
Section 1 Background/Introduction.
Chapter 1 Adult learners in the emergency department.
Chapter 2 Obstacles to teaching in the emergency department.
Chapter 3 Teaching and patient care in emergency medicine.
Section 2 Teaching in the Emergency Department.
Chapter 4 Bedside teaching in the emergency department.
Chapter 5 Teaching procedures: beyond "see one, do one, teach one".
Chapter 6 Providing feedback in the emergency department.
Chapter 7 The computer as a teaching tool.
Chapter 8 Teaching the intangibles: professionalism and interpersonal skills/communication.
Section 3 Teaching Specific Groups.
Chapter 9 Teaching medical students.
Chapter 10 Teaching trainees from other services in the emergency department.
Chapter 11 The education of resident physicians in emergency medicine: a United States perspective.
Chapter 12 Teaching physicians in training how to teach.
Section 4 Improving as an Educator in Emergency Medicine.
Chapter 13 Characteristics of great teachers.
Chapter 14 Effective presentation skills.
Chapter 15 Small group discussion skills.
Chapter 16 Faculty development as a guide for becoming a better teacher.
Section 5 Teaching Techniques and Strategies.
Chapter 17 Strategies for effective clinical emergency department teaching.
Chapter 18 Pearls and pitfalls in teaching: what works, what doesn't?.
Index
"Practical Teaching in Emergency Medicine gets to the essential core of how to best teach the art of practicing emergency medicine – and provides the blueprint to become a better teacher, providing guidance on how to accomplish skilful teaching in busy emergency departments. It provides emergency physicians and trainees with the necessary tools to effectively and efficiently transmit information to learners in the often times chaotic emergency department environment."  (Kingbook73's Medical Ebook and Video Collection, 5 March 2014)
"This excellent book covers the major ideas and theories of teaching in the emergency department. As the first book of its kind, it will become the benchmark." (
Doody's Reviews
, June 2009)
provides emergency physicians with the necessary tools to effectively and efficiently transmit information to learners in the oftentimes chaotic emergency department environment
unique – there is no other book on teaching in the emergency department

no other specialty in medicine is practiced in such a unique environment - this book gets at the essential core of how to best teach in the emergency department

each chapter touches on the many facets of teaching in emergency medicine