Practical Transfusion Medicine, 2nd Edition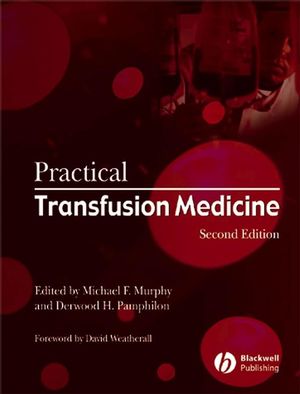 Practical Transfusion Medicine, 2nd Edition
ISBN: 978-1-405-14372-1
Apr 2008, Wiley-Blackwell
488 pages
Description
Essential practical manual for all those working in modern transfusion medicine
Why Buy This Book?
Concise and 'user friendly' guide to transfusion medicine
Provides guidance for everyday clinical questions
Revised and updated throughout to reflect rapid developing areas
Scope broadened by including experts from the USA
Part 1 – Basic Principles of transfusion
.
1. Introduction.
2. Essential immunology for transfusion medicine.
3. Human blood group systems.
.
4. Human leucocyte antigens.
5. Human platelet and Neurophil antigens.
Part 2 – Clinical transfusion practice.
.
6. Good Blood management: The effective and safe use of blood components.
7. Bleeding Associated with Trauma and Surgery.
8. Prenatal and childhood transfusions.
9. Haematological disease.
10. Transfusion Strategies in Organ Transplant Patients.
11. Inherited and acquired coagulation disorders.
12. Uses of intravenous immunoglobulin.
.
Part 3 – Complications of transfusion.
13. Haemolytic transfusion reactions.
14. Febrile reactions and transfusion-related acute lung injury.
15. Urticarial and anaphylactic reactions.
16. Bacterial contamination.
17. Post-transfusion purpura.
18. Immunomodulation and graft-versus host disease.
19. Transfusion-transmitted infection.
20. Varient CJD.
Part 4 – Practice in blood centres and hospitals.
21. Donors and blood collection.
22. Blood Donation Testing and the Saftey of Blood Supply.
23. Production and storage of blood components.
24. Medicolegal aspects.
25. Blood transfusion in hospitals.
26. Autologous transfusion.
27. Tissue banking.
28. Cord Blood banking.
29. Therapeutic apheresis.
Part 5 – Developments in transfusion medicine.
30. Blood substitutes.
31. Cytokines in Transfusion practice.
32. Hematopoietic Stem Cell Processing and Storage.
33. Stem Cell Transplantation and Immunotherapy.
34. Gene therapy.
35. Recombinant Antibodies and other Proteins.
36. Blood Transfusion in a Global Context.
37. The Design of Interventional Trials in Transfusion Medicine.
38. Getting the Most out of the Evidence for Transfusion Medicine.
39. Developments and the Future of Tranfusion Medicine: Horizon Scanning.
.
.
Index
"Drs Murphy, Pamphilon, and colleagues have provided a singular service to the profession in putting together this comprehensive, superbly written yet concise book."
Transfusion
"...this is one of few physician-oriented texts of transfusion medicine that is short and current enough for medical students, residents, and fellows, while still useful as a reference for attending physicians and consultants on both sides of the pond."
Transfusion

"...not only complements the library of textbooks in a transfusion medicine unit, but is of specific aid in any unit that is involved directly with the care of patients. It certainly justifies its title, 'Practical' Transfusion Medicine."
Vox Sanguinis

"As this book provides rapid reference and aid as a result of its clear instructions and layout, it is a very useful textbook for both trainees and senior clinicians of all clinical fields, who want to learn or refresh their knowledge concerning
clinical aspects of transfusion medicine."
Vox Sanguinis

"...prodigiously replete with useful pieces of information that are well structured and integrated in an up-todate textbook. The aim of the editors has been to present a comprehensive source of transfusion medicine, and their effort has certainly met with astounding success."
European Journal of Haematology

"...this edition provides an excellent update, which I strongly recommend to the transfusion medicine community."
British Journal of Biomedical Science

"This textbook will be a useful addition to any library used by those interested in obtaining an up-to-date and practical grasp of transfusion medicine and its editors are to be congratulated."
Clinical and Laboratory Haematology

"I have discussed the contents and presentation with both scientific and clinical colleagues and they have been enthusiastic about both. Medical trainees, in particular, from a wide range of specialities will find this as a useful and accessible text, which will answer many of the problems not considered in more general textbooks. The size and format of the book will appeal to those working
for specialist examinations who want a brief understanding of transfusion medicine rather than an in depth knowledge."
Clinical and Laboratory Haematology


ON THE PREVIOUS EDITION

"Overall, I would recommend this book strongly to anyone wishing to learn how blood is collected, processed and administered. I certainly advise my haematology trainees to read it before taking their exams, and would expect a copy to find its way onto the shelves of most senior haematologists."
Reviewed for Bloodline by: Drew Provan, MD
* A comprehensive, user-friendly guide to transfusion medicine
* Focuses primarily on clinical aspects but also covers background science and organisational issues
* Ideal for trainees in haematology