Practice Papers for MCEM Part A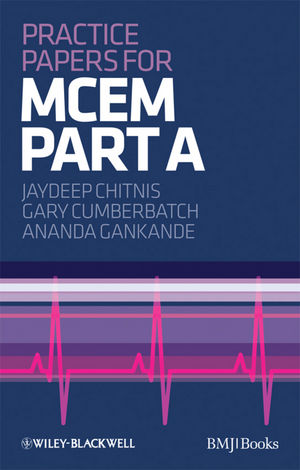 Practice Papers for MCEM Part A
ISBN: 978-1-444-31952-1
Oct 2009, Wiley-Blackwell
124 pages
Description
If you're taking Part A of the MCEM then look no further – we have the resources to help you pass!

Practice Papers for MCEM Part A features practice questions based on original examination papers to be found in Part A of the College of Emergency Medicine Membership examination, including 8 practice paper MCQs written by teachers and recent participants in the exam.

The practice papers (and their answers) featured here are based on the curriculum for the examination as published by the College of Emergency Medicine, and cover all the core subjects that are tested, making Practice Papers for MCEM Part A ideal to test your understanding, identify weak areas, consolidate knowledge, and hone your exam skills.
Preface.
Practice Papers.
Practice Paper 1.
Practice Paper 2.
Practice Paper 3.
Practice Paper 4.
Practice Paper 5.
Practice Paper 6.
Practice Paper 7.
Practice Paper 8.
Answers.
Paper 1 Answers.
Paper 2 Answers.
Paper 3 Answers.
Paper 4 Answers.
Paper 5 Answers.
Paper 6 Answers.
Paper 7 Answers.
Paper 8 Answers.
"Based on eight real examination papers written by teachers and recent participants in the exam. The practice papers and their answers cover all of the core subjects tested." (Book News, December 2009)