Practicing Leadership Principles and Applications, 4th Edition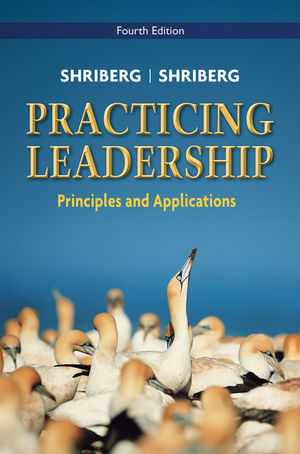 Practicing Leadership Principles and Applications, 4th Edition
ISBN: 978-0-470-47295-8
Sep 2010
320 pages
Description
Practicing Leadership Principles and Applications 4th Edition is unique and insightful in its perspective

–

it examines traditional and contemporary approaches to leadership through a multidisciplinary, integrated, and international lens.

Authors Arthur Shriberg and David Shriberg encourage students to develop their own leadership styles by building on their personal strengths and talents, while exploring the different approaches to leadership.  With its commitment to ethical and cultural considerations, the Practicing Leadership 4th Edition delves different aspects and applications of leadership from managerial and psychological to military and virtual.  It is through this breadth of study that students come to see, embrace, and harness their leadership potential. 
Chapter 1: Introducing Leadership and Beginning to Form Your Personal Leadership Model
Chapter 2: Ethical Leadership
Chapter 3: Leadership in a Global and Multicultural Society 
Chapter 4: Evolution of Western Leadership
Chapter 5: Psychology I: Intelligence and Personality
Chapter 6: Psychology II: Motivation and Communication
Chapter 7: Management and Leadership
Chapter 8: Power and Leadership from the Top
Chapter 9: Teaming and Leadership
Chapter 10: Philosophy and Leadership
Chapter 11: Leadership 2.0 (Virtual Leadership)
Chapter 12: Military Leadership
Chapter 13: Leading for Environmental Sustainability
Chapter 14: Practicing Leadership: It's Your Turn
New Profiles:

Richard A. Clarke, chief counter-terrorism advisor on the U.S. National Security Council during the Bill Clinton and George W. Bush administrations
Thomas Friedman - NY Times columnist and Pulitzer Prize winning author
Joe Paterno - Penn State Head Coach
Marshall Goldsmith - Author, executive educator, coach, world authority on leadership

New Virtual Leadership Chapter

–

new coverage addresses leading in a virtual environment
Updated Military Leadership and Environmental Leadership

–

new coverage reflects recent political and global developments
Personal leadership skills approach

–

A core theme throughout the text is that there is no one ''correct'' way to lead. Rather, throughout the book the authors pose questions and actively encourage readers to develop their own personal model of leadership.
Multi-disciplinary leadership roots

–

Examination of the roots of leadership through a variety of disciplines, including psychology, communication, philosophy, political science, and management.