Practicing Organization Development: A Guide for Leading Change, 3rd Edition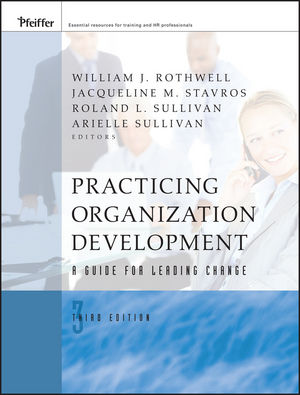 Practicing Organization Development: A Guide for Leading Change, 3rd Edition
ISBN: 978-0-470-40544-4
Oct 2009, Pfeiffer
704 pages
Product not available for purchase
Description
Completely revised, this new edition of the classic book offers contributions from experts in the field (Warner Burke, David Campbell, Chris Worley, David Jamieson, Kim Cameron, Michael Beer, Edgar Schein, Gibb Dyer, and Margaret Wheatley) and provides a road map through each episode of change facilitation. This updated edition features new chapters on positive change, leadership transformation, sustainability, and globalization. In addition, it includes exhibits, activities, instruments, and case studies, supplemental materials on accompanying Website. This resource is written for OD practitioners, consultants, and scholars.
List of Figures, Tables, and Exhibits.
Acknowledgments.
Foreword.
Introduction.
PART ONE: FOUNDATIONS.
1. Organization Development and Change (William J. Rothwell, Jacqueline M. Stavros, and Roland L. Sullivan).
2. Change Process and Models (William J. Rothwell and Roland L. Sullivan).
3. On the Shoulders of Giants: The Origins of OD (John J. Scherer and Billie T. Alban).
4. Building Convergence Between Human Resource Management and OD(William J. Rothwell).
5. Competencies of OD Practitioners (Christopher G. Worley, William J. Rothwell, and Roland L. Sullivan).
6. Mindful Leadership Development: Assessing Self for Leading Change
Jacqueline M. Stavros and Jane Galloway Seiling
7. Appreciative Inquiry: OD in the Post-Modern Age (Jane Magruder Watkins and Jacqueline M. Stavros).
PART TWO: OD PROCESS TO GUIDE CHANGE.
8. Entry: Marketing and Positioning OD (Alan Weiss).
9. Front-End Work: Effectively Engaging with the Client System (David W. Jamieson).
10. Launch: Assessment, Action Planning, and Implementation (D.D. Warrick).
11. Situational Evaluation (Steven H. Cady, Julie Auger, and Marguerite Foxon).
12. Closure: Freeing Up Energy to Move Forward (Ann M. Van Eron and W. Warner Burke).
PART THREE: LEVELS and TYPES OF CHANGE.
13. Taking Organization Culture Seriously (Edgar Schein).
14. Individual Development in OD: Human-Centric Interventions (Udai Pareek, Lynnea Brinkerhoff, John J. Scherer, and Rick Flath).
15. Team Building and the Four Cs of Team Performance (W. Gibb Dyer and Jeffrey H. Dyer).
16. Interventions in Large Systems(Thomas G. Cummings and Ann E. Feyerherm).
17. Whole System Change: What It Is and Why It Matters (Emily Axelrod, Steven Cady, and Peggy Holman).
18. SOAR: Linking Strategy and OD to Sustainable Performance (Jacqueline M. Stavros and Daniel K. Saint).
PART FOUR: SPECIAL ISSUES IN OD.
19. Positive Organizational Change: What the Field of POS Offers to OD Practitioners (David S. Bright and Kim Cameron).
20. Systemic SustainabilitySM: Moving Sustainability from Ideas to Action (Mona  A. Amodeo and C. Keith Cox).
21. The Global OD Consultant (Therese F. Yaeger, Peter F. Sorensen, Perla Rizalina M. Tayko, and Eric Gaynor-Butterfield).
22. Inclusion: The How for Organizational Breakthrough (Judith H. Katz and Fredrick A. Miller).
23. Organization Design (Amy Kates).
24. The OD Role in Making Mergers and Acquisitions Work (Mitchell Lee Marks and Philip H. Mirvis).
25. Human Systems Dynamics: Competencies for a New Organizational Practice (Glenda H. Eoyang).
26. Seeing and Influencing Self-Organization (Kristine Quade and Royce Holladay).
27. Values, Ethics, and Expanding the Practice of OD (William Gellermann and Terri Egan).
28. Technologies to Support Interactive and Connective OD in a Virtual World (Richard G. Bush and S. Alan McCord).
29. Transformational Learning Journeys: Seeing Is Believing (Philip H. Mirvis).
30. The Personhood of the OD Practitioner (Saul Eisen).
31. The Organizational Fitness Process: A System-Wide Alignment (Michael Beer).
32. Context Blindness: What We Don't See Will Hurt Us (Barry Oshry).
33. Transforming the HR-OD Audit by Using Whole Systems (T.V. Rao).
34. Emergence: The Gestalt Approach to Change (Herb Stevenson).
35. Practicing Internal OD (Alan Weiss).
36. Estimating OD Success Rates at the National Level (Robert T. Golembiewski).
37. Four Risk Factors of the Unexamined Life: Be-Know-Do (Peter Koestenbaum).
38. Whole System Transformation: Becoming Dramatically Different (Jennifer Todd, John Parker, and Arielle Sullivan).
39. The Keys to Building a Transformative OD Practice: An Interview with Edie Seashore (Gina Lavery and Tracey Wik).
PART FIVE: THE FUTURE OF Organization development.
40. Dialogic OD: Turning Away from Diagnosis (Gervase R. Bushe).
41. Valuable Insights on OD from the Contributors (D.D. Warrick).
42. The Shifting Field of OD Practice (Jane Magruder Watkins).
Guest Essay: Soular Power.
Angé Wayne.
About the Editors.
About the Contributors.
Subject Index.
Name Index.
Pfeiffer Publications Guide.