Practicing Responsible Tourism: International Case Studies in Tourism Planning, Policy, and Development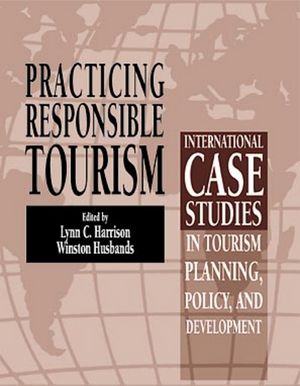 Practicing Responsible Tourism: International Case Studies in Tourism Planning, Policy, and Development
ISBN: 978-0-470-89128-5
Jun 2010
608 pages
Description
This book of tourism case studies addresses 20 important themes in tourism at the local, regional, and national levels. Topics include community tourism, tourism impacts, and travel and transportation.
Practicing Responsible Tourism: Understanding Tourism Today to Prepare for Tomorrow
W. Husbands and L. Harrison
One Name, Two Destinations: Planned and Unplanned Coastal Resorts in Indonesia
G. Wall
Revitalizing Bermuda: Tourism Policy Planning in a Mature Island Destination
M. Conlin
Striving for Sustainability and Financial Self-Sufficiency: Nelson's Dockyard National Park, Antigua
D. Russell, et al.
Tourism and Transportation in Ontario, Canada: A Vital Link
B. Lamb and S. Davidson
Hallmark Events and Urban Reimaging Strategies: Coercion, Community, and the Sydney 2000 Olympics
C. Hall
Attracting the Invisible Tourist Market: VFR Travel in Albury Wodonga, Australia
B. McKercher