Practicing Servant-Leadership: Succeeding Through Trust, Bravery, and Forgiveness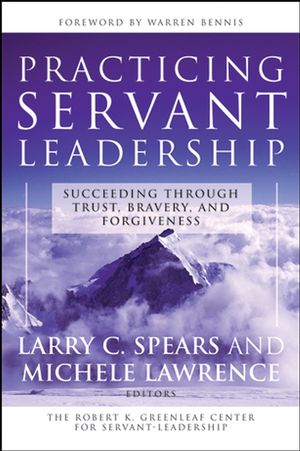 Practicing Servant-Leadership: Succeeding Through Trust, Bravery, and Forgiveness
ISBN: 978-1-119-37839-6 October 2016 Jossey-Bass 336 Pages
Description
Practicing Servant-Leadership brings together a group of exceptional thinkers who offer a compendium of thought on the topic of bringing servant-leadership into the daily lives of leaders. Each contributor focuses on his or her area of expertise, exploring how servant-leadership works in the real world, using examples from a variety of organizations such as businesses, nonprofits, churches, schools, foundations, and leadership organizations. Highlights of the book's twelve essays include information on:
how the idealistic vision of the servant as leader works even in the competitive world of business.
encouraging leaders to begin by looking at what they themselves want to become and then to bring this knowledge into their daily leadership.
how the principles of servant-leadership can enhance our understanding and practice of philanthropy.
examining the board chairperson's especially vital role as a servant- leader.
exploring what leaders learn from being followers.
Order your copy today!
Foreword: Why Servant-Leadership Matters (Warren Bennis).
Preface.
Acknowledgments.
The Editors and The Greenleaf Center for Servant-Leadership.
The Contributors.
1. Who Is the Servant-Leader? (Robert K. Greenleaf).
2. The Understanding and Practice of Servant-Leadership (Larry C. Spears).
3. The Unique Double Servant-Leadership Role of the Board Chairperson (John Carver).
4. Love and Work
A Conversation with James A. Autry.
5. Servant-Leadership and Philanthropic Institutions (John C. Burkhardt, Larry C. Spears).
6. On the Right Side of History (John C. Bogle).
7. Anatomy of a Collaboration: An Act of Servant-Leadership (Wendell J.Walls).
8. Servant-Leadership Characteristics in Organizational Life (Don DeGraaf, Colin Tilley, Larry Neal).
9. Toward a Theology of Institutions (David L. Specht with Richard R. Broholm).
10. Foresight as the Central Ethic of Leadership (Daniel H. Kim).
11. Servant-Leadership, Forgiveness, and Social Justice (Shann R. Ferch).
12. The Servant-Leader: From Hero to Host
An Interview with Margaret J. Wheatley.
Endnotes.
Recommended Reading.
Index.