Practising Public Scholarship: Experiences and Possibilities Beyond the Academy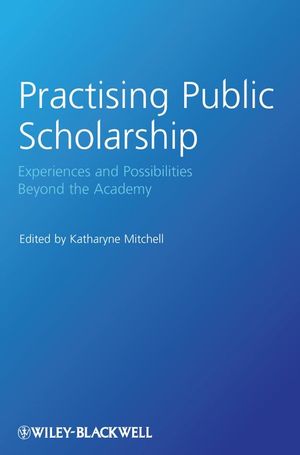 Practising Public Scholarship: Experiences and Possibilities Beyond the Academy
ISBN: 978-1-405-18912-5 October 2008 Wiley-Blackwell 160 Pages
Description
A cross-disciplinary collection of 20 essays describing the journey to public scholarship, exploring the pleasures and perils associated with breaching the town-gown divide.
Includes contributions from departments of geography, comparative literature, sociology, communications, history, English, public health, and biology
Discusses their efforts to reach beyond the academy and to make their ideas and research broadly accessible to a wider audience
Opens the way for a new kind of democratic politics—one based on grounded concepts and meaningful social participation
Includes deeply personal accounts about the journey to becoming a public scholar and to intervening politically in the world, while remaining within a university system
Provides a broad prescription for social change, both within and outside the university
Introduction: Becoming Political (Katharyne Mitchell).
1. Comrades and Colons (Terry Eagleton).
2. Tales of Western Adventure (Patricia Limerick).
3. Open Letter to C. Wright Mills (Michael Burawoy).
4. Craven Emotional Warriors (Melissa W. Wright).
5. Population, Environment, War, and Racism: Adventures of a Public Scholar (Paul R. Ehrlich).
6. The Something We Can Do (David Domke).
7. Philadelphia Dreaming: Discovering Citizenship between the University and the Schools (Julia Reinhard Lupton).
8. Beyond Positivism: Public Scholarship in Support of Health (Dennis Raphael).
9. Weaving Solidarity from Oneonta to Oxchuc (Katherine O'Donnell).
10. Demand the Possible: Journeys in Changing Our World as a Public Activist-Scholar (Paul Chatterton).
11. Becoming a Scholar-Advocate: Participatory Research with Children (Meghan Cope).
12. Why am I Engaged? (Walden Bello).
13. Drugs, Data, Race and Reaction: A Field Report (Katherine Beckett).
14. Confessions of a Desk-Bound Radical (Don Mitchell).
15. Becoming a Public Scholar to Improve the Health of the US Population (Stephen Bezruchka).
16. The Humanities and the Public Soul (Julie Ellison).
17. This Fist Called My Heart: Public Pedagogy in the Belly of the Beast (Peter McLaren).
18. The Surprising Sense of Hope (Jenny Pickerill).
19. The Making of a Public Intellectual (Howard Zinn).
20. When Theory Meets Politics (Doreen Massey).
Index.
 'Practicing Public Scholarship' provides a useful resource for those thinking how to push forward the public dimensions of their work." (The Sociological Imagination, June 2010)

"Highly recommended for faculty, this book raises some uncomfortable questions that "activist" scholars must confront." (International Journal of Social Welfare , July 2009)


A cross-disciplinary collection of 20 essays describing the journey to public scholarship, exploring the pleasures and perils associated with breaching the town-gown divide

Includes contributions from departments of geography, comparative literature, sociology, communications, history, English, public health, and biology

Discusses their efforts to reach beyond the academy and to make their ideas and research broadly accessible to a wider audience

Opens the way for a new kind of democratic politics—one based on grounded concepts and meaningful social participation

Includes deeply personal accounts about the journey to becoming a public scholar and to intervening politically in the world, while remaining within a university system

Provides a broad prescription for social change, both within and outside the university