Pre-contract Studies: Development Economics, Tendering and Estimating, 3rd Edition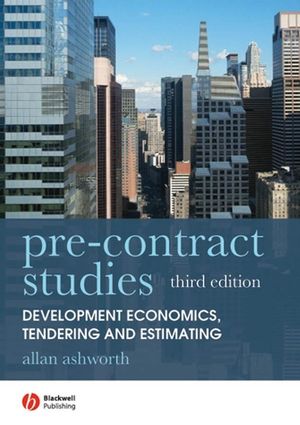 Pre-contract Studies: Development Economics, Tendering and Estimating, 3rd Edition
ISBN: 978-1-405-17700-9 June 2008 Wiley-Blackwell 376 Pages
Description
Pre-contract Studies: Development Economics, Tendering and Estimating
provides a comprehensive introduction to the property development process, with an emphasis on the financial analysis of projects in the context of development values and construction costs.
The book covers capital investment, funding sources, the economics of development, evaluation of financial data, whole life costing and tendering, estimating and cash flow considerations. The process of getting a project from inception to completion is examined in detail, while the different methods of development appraisal, and the way developers' budgets are calculated, are explored with worked examples.
The third edition has been extensively revised to reinforce aspects of valuations and more information has been added on the major property companies and who owns the land in Britain, as well as on conservation, PFI and value management. A large number of charts and graphs are new.
The book is used on a wide range of undergraduate programmes in building, surveying and associated disciplines.
Table of contents
The development process; Property investment economics; Capital investment; Financial data evaluation; Development appraisal; Urban land economics; Economics of property investment; Sources of finance: Project construction costs; Budgeting, costing and cash flows; Procurement; Tendering and estimating; Development and trends; References and bibliography
Features


provides a comprehensive introduction to the property development process, with emphasis on financial analysis of projects


expanded information on valuations and new developments and trends, together with revised date and charts


well-known author of surveying and construction textbooks