Prebiotics: Development and Application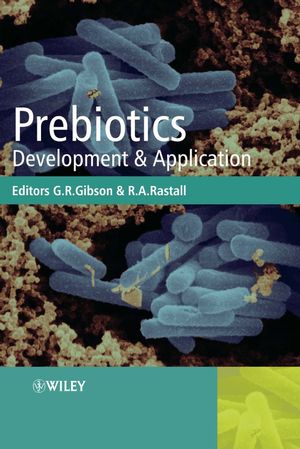 Prebiotics: Development and Application
ISBN: 978-0-470-02315-0 August 2012 264 Pages
Description
The prebiotic concept works on the basis that many potentially health-promoting microorganisms are already present in humans. Prebiotics are non-digestible food ingredients that stimulate activity in targeted microorganisms, to improve the health of the individual. Prebiotics can be incorporated into many foodstuffs such as beverages, health and sports drinks, infant formulae, cereals, bread, savoury products and so forth, and are receiving much commercial interest.

Prebiotics: Development and Application is the first book to consolidate research in this emerging area of 'functional food' study. The book takes a broad view approach to prebiotics, from the conceptual stage, definition, production, evaluation of individual food products and their effect on microbial flora, and their potential relation to diseases.

The book starts with an introduction to the prebiotic concept and its development, proceeds to consider the synthesis and manufacture of prebiotics and testing for prebiotic effects, and will then consider different forms of prebiotics (e.g. fructans, galactans, lactulose etc). The book will then look at prebiotic intervention for improving human health (acute and chronic disorders) and animal health. The book closes by considering the sectors for prebiotic foods, development and commercialisation issues, and future developments.
List of Contributors.
1. Human Colonic Microbiology and the Role of Dietary Intervention: Introduction to Prebiotics (C.L. Vernazza, B.A. Rabiu and G.R. Gibson).
2. Manufacture of Prebiotic Oligosaccharides (T. Casci and R.A. Rastall).
3. Inulin-type Fructans as Prebiotics (J. Van Loo).
4. Galacto-oligosaccharides as Prebiotics (R.A. Rastall).
5. Emerging Prebiotic Carbohydrates (R. Crittenden).
6. Molecular Microbial Ecology of the Human Gut (K.M. Tuohy and A.L. McCartney).
7. Dietary Intervention for Improving Human Health: Acute Disorders (W. Brück).
8. Dietary Intervention for Improving Human Health: Chronic Disorders (N.R. Bullock and M.R. Jones).
9. Extra Intestinal Effects of Prebiotics and Probiotics (G. Reid).
10. Prebiotic Impacts on Companion Animals (K.S. Swanson and G.C. Fahey Jr.).
11. Prebiotics: Past, Present and Future (J. Leach, R.A. Rastall and G.R. Gibson).
Index.
"…a valuable addition to the literature and recommended for libraries supporting food and pharmaceutical microbiology." (
Journal of the Agricultural & Food Information
, January 2008)
"…they have assembled a surprisingly uniform book that progresses through the topic of prebiotics in an orderly and organized fashion." (Doody's Health Services)