Precious Metals Trading: How To Profit from Major Market Moves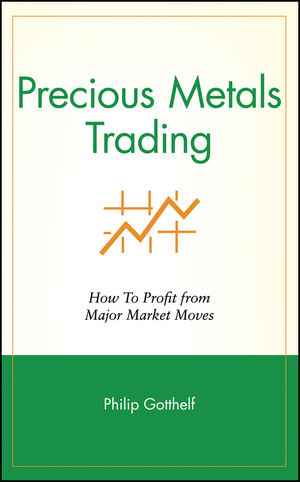 Precious Metals Trading: How To Profit from Major Market Moves
ISBN: 978-0-471-74744-4 May 2005 340 Pages
Description
A detailed look at how to profit in the precious metals market
Today, gold, silver, platinum, and palladium offer a new and different profit potential for those who understand the impact of new technologies, new economic forces, and new demographics. Updated to reflect changes in this market since the mid-1990s, The Precious Metals Trader focuses on new developments that could translate into serious profit-making trends-from electrically-generated automobiles that could substantially increase demand for platinum to the increased use of composites in dentistry, which could negatively impact the use of both silver and gold. The Precious Metals Trader also explains the supply/demand fundamentals of the four precious metals-gold, silver, platinum, and palladium-and provides projections about long-term trends and profit opportunities that will coincide with them. Filled with fresh insights from Philip Gotthelf-one of the top experts in this field-The Precious Metals Trader offers readers the guidance they need to trade profitably within this dynamic market.
Philip Gotthelf (Closter, NJ) publishes the Commodex System-the oldest daily futures trading system published in the world-and the Commodity Futures Forecast Service. He is also President of Equidex Incorporated and Equidex Brokerage Group Inc.
Introduction.
Chapter 1. What's All the Fuss About?
Chapter 2. Monetary Roles.
Chapter 3. Are Precious Metals Investments?
Chapter 4. New Strategies for New Markets.
Chapter 5. Price Action.
Chapter 6. Gold Fundamentals.
Chapter 7. Silver Fundamentals.
Chapter 8. Platinum Fundamentals.
Chapter 9. Palladium Fundamentals.
Chapter 10. Investing in Stocks.
Chapter 11. The Physical Market.
Chapter 12. Projections.
Appendix A: Periodic Table of Elements.
Appendix B: Weights and Measures.
Index.