Pregnancy For Dummies, UK Edition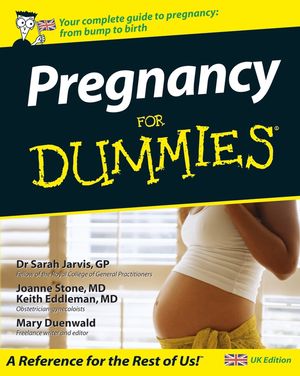 Pregnancy For Dummies, UK Edition
ISBN: 978-1-119-99706-1
Mar 2011
384 pages
Description
In Pregnancy For DummiesDr Sarah Jarvis takes the reader through pregnancy,trimester bytrimester,following the baby's growth and describing medical issues that might ensue.

This UK edition includes information on:
Getting the best care from the NHS for you and your baby

Welfare benefits for mothers and mums to be.

The newborn baby

Taking care of yourself after delivery

Choosing breast- or bottle-feeding

Special considerations,such as age, multiple births, complications, illness

 New ultrasound techniques,such as 4D

Working while pregnant and deciding when to return

Considering "alternative birth"procedures

Selecting and using an infant car seat

Preparing home,family and siblings for new baby

Caring for a premature child
Introduction.
Part I: The Game Plan.
Chapter 1: From Here to Maternity.
Chapter 2: I Think I'm Pregnant!
Chapter 3: Preparing for Life during Pregnancy.
Chapter 4: Checking Out Your Rights and Welfare Benefits.
Chapter 5: Diet and Exercise for the Expectant Mother.
Part II: Pregnancy: A Drama in Three Acts.
Chapter 6: The First Trimester.
Chapter 7: The Second Trimester.
Chapter 8: The Third Trimester.
Chapter 9: Understanding Antenatal Testing.
Part III: The Big Event: Labour, Delivery, and Recovery.
Chapter 10: I Think I'm in Labour!
Chapter 11: Special Delivery: Bringing Your Baby into the World.
Chapter 12: Hello, World! Your Newborn.
Chapter 13: Taking Care of Yourself after Delivery.
Chapter 14: Feeding Your Baby.
Part IV: Special Concerns.
Chapter 15: Pregnancies with Special Considerations.
Chapter 16: When Things Get Complicated.
Chapter 17: Pregnancy in Sickness and in Health.
Chapter 18: Coping with the Unexpected.
Part V: The Part of Tens.
Chapter 19: Ten Things Nobody Tells You.
Chapter 20: Ten (Or So) Old Wives' Tales.
Chapter 21: Ten Landmarks in Foetal Development.
Chapter 22: Ten Key Things You Can See on Ultrasound.
Appendix: The Pregnant Man: Having a Baby from a Dad's Perspective.
Index.
"A new addition to this popular series, the book offers sound, practical advice for ever stage of pregnancy." (Yoga & Health, May 2005)