Prehistoric Britain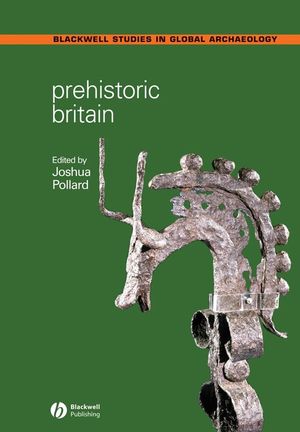 Prehistoric Britain
ISBN: 978-1-405-12546-8 June 2008 Wiley-Blackwell 384 Pages
Description
Informed by the latest research and in-depth analysis,
Prehistoric Britain
provides students and scholars alike with a fascinating overview of the development of human societies in Britain from the Upper Paleolithic to the end of the Iron Age.


Offers readers an incisive synthesis and much-needed overview of current research themes

Includes essays from leading scholars and professionals who address the very latest trends in current research

Explores the interpretive debates surrounding major transitions in British prehistory
Table of contents
List of Figures.
List of Tables.
Notes on Contributors.
Acknowledgements.
1. The Construction of Prehistoric Britain: Joshua Pollard (University of Bristol).
2. The British Upper Palaeolithic: Paul Pettitt (University of Sheffield).
3. The Mesolithic–Neolithic Transition in Britain: Julian Thomas (University of Manchester).
4. Foodways and Social Ecologies from the Early Mesolithic to the Early Bronze Age: Rick Schulting (University of Oxford).
5. Temporary Spaces in the Mesolithic and Neolithic: Understanding Landscapes: Lesley McFadyen (University of Leicester).
6. The Architecture of Monuments: Vicki Cummings (University of Central Lancashire).
7. Lithic Technology and the Chaîne Opératoire: Chantal Conneller (University of Manchester).
8. How the Dead Live: Mortuary Practices, Memory and the Ancestors in Neolithic and Early Bronze Age Britain and Ireland: Andrew Jones (University of Southampton).
9. The Development of an Agricultural Countryside: David Field.
10. Foodways and Social Ecologies from the Middle Bronze Age to Late Iron Age: Jacqui Mulville (University of Cardiff).
11. The Architecture of Routine Life: Joanna Brück (University College Dublin).
12. Later Prehistoric Landscapes and Inhabitation: Robert Johnston (University of Sheffield).
13. Ceramic Technologies and Social Relations: Ann Woodward (University of Birmingham).
14. Exchange, Object Biographies and the Shaping of Identities, 10,000–1000 B.C.: Stuart Needham (British Museum).
15. Identity, Community and the Person in Later Prehistory: Melanie Giles (University of Manchester).
Index
Reviews
"Prehistoric Britain
provides a compact and generally very readable summary of the state of thought within a broad segment of the British archaeological community in the first decade of the 21st century." (
Journal of Field Archaeology,
2009)
"Excellent chapters ... .Needham's consideration of the exchange of objects over nine millennia to 1000 BC, informed by perspectives drawn in particular from Godelier, is a tour-de-force mixing generalization and pertinent case studies." (
Journal of the Royal Anthropological Institute
, June 2009)
"What a grand surprise! Here is an important study of prehistoric Britain written in clear English!" (CHOICE, June 2009)
"Prehistoric Britain offers an excellent outline of the major themes and approaches that will, no doubt, be the main theatres of debate over the next few years. ... A worthy addition to any bookshelf." (Rosetta, May 2009)
"This contains 14 excellent papers, mostly covering small-scale regional case studies from the early neolithic to the iron age. ... Goldhahn's tale of barrows and the chapters on houses by Boriæ and Gerritsen are very readable." (British Archaeology, March 2009)
"This collection meets admirably the aims of the Blackwell Studies in Global Archaeology series, which seeks to 'immerse readers in fundamental archaeological ideas and concepts ... thereby exposing [them] to some of the most exciting contemporary developments in the field.' ... An excellent way of taking the pulse of recent British prehistory." (Antiquity, March 2009)
Features


Provides a fascinating overview of the development of human societies in Britain from the Paleolithic to the end of the Iron Age

Offers readers an incisive synthesis and much-needed overview of current research themes

Includes essays from leading scholars and professionals who address the very latest trends in current research

Explores the interpretive debates surrounding major transitions in British prehistory