Preimplantation Genetic Diagnosis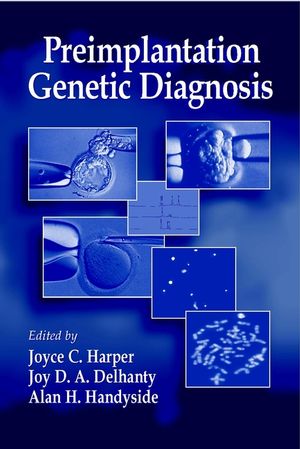 Preimplantation Genetic Diagnosis
ISBN: 978-0-470-84661-2
Feb 2002
278 pages
Description
Preimplantation Genetic Diagnosis (PGD) is the detection and screening of genetic abnormality in gametes prior to fertilisation and embryos fertilised in vitro prior to implantation. This exciting new text provides an introduction and overview of the principles of PGD.
An exciting fusion of prenatal diagnosis (PD) with in vitro fertilisation (IVF), this book is will appeal to both the prenatal diagnosis community, of clinical geneticists and foetal medicine specialists within obstetrics and gynaecology, and the IVF community within reproductive medicine. It is also an essential introduction to PD, clinical genetics and IVF for non-specialists.
A concise introduction to the field of PGD
Detailed explanations of the techniques and procedures used
The law and ethical implications of PGD
Future uses of PGD
List of Contributors.

Foreword.

BACKGROUND.

Introduction (J. Harper).

Genetic Basis of Inherited Disease (J. Delhanty).

Prenatal Diagnosis (A. Cockell & C. Rodeck).

Genetic Counselling (S. Raeburn).

In Vitro Fertilization (K. Elder).

Gametogenesis and Preimplantation Embryo Development (K. Elder & S. Fleming).

Preimplantation Genetics (E. Pergament, et al.).

PROCEDURES USED IN PGD.

Clinical Aspects of Preimplantation Diagnosis (C. Overton, et al.).

Embryo Biopsy (J. Harper & A. Thornhill).

Diagnosis of Single Gene Disorders (D. Wells & J. Sherlock).

FISH and Embryo Sexing to Avoid X-linked Disease (J. Harper & L. Wilton).

Preimplantation Genetic Diagnosis of Chromosome Abnormalities: Specific Chromosomal Rearrangements and Age-related Aneuploidy (J. Delhanty & C. Conn).

THE FUTURE.

Ethical Perspectives and Regulation of Preimplantation Genetic Diagnostic Practice (S. Viville, et al.).

Future Developments in PGD (J. Harper & D. Wells).

Index.
"Scientists...report on recent developments in performing genetic analysis of human preimplantation embryos to predict the success of the implantation." (SciTech Book News, Vol. 25, No. 4, December 2001)

"This is a welcome and comprehensive introduction to PGD, which I recommend to anyone interested in this exciting and rapidly evolving field." (Human Genetics, Vol.110, 2002)