Prejudice: Its Social Psychology, 2nd Edition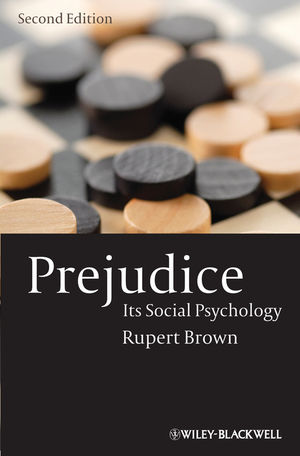 Prejudice: Its Social Psychology, 2nd Edition
ISBN: 978-1-118-29649-3
Mar 2012, Wiley-Blackwell
368 pages
Description
This new edition of Prejudice provides a comprehensive treatment of the subject, introducing the major theoretical ideas as well as providing a critical analysis of recent developments.
Takes a social psychological perspective, analysing individual behavior as part of a pattern of intergroup processes
Covers the major research, including classical personality accounts, developmental approaches, socio-cognitive research focussing on categorization and stereotyping, prejudice as an intergroup phenomenon, and ways to combat prejudice
Illustrates concepts with examples of different kinds of prejudice drawn from everyday life
Includes a new chapter on prejudice from the victim's perspective
Fully updated throughout, with expansion of the notions of explicit and implicit manifestations of prejudice
Preface.
Acknowledgements.
List of Figures.
1. The Nature of Prejudice.
2. Prejudiced Individuals.
3. Social Categorization and Prejudice.
4. Stereotyping and Prejudice.
5. The Development of Prejudice in Children.
6. Prejudice and Intergroup Relations.
7. Prejudice Old and New.
8. Prejudice from the Recipients' Point of View.
9. Reducing Prejudice.
Glossary of Key Terms.
References.
Subject Index.
Author Index.
Includes a new chapter on prejudice from the victim's perspective
Fully updated throughout, with expansion of the notions of explicit and implicit manifestations of prejudice
Provides a comprehensive treatment of the study of prejudice, introducing the main theoretical ideas as well as providing a critical analysis of recent developments and research in the field
Takes a social psychological perspective, analysing individual behavior as part of a pattern of intergroup processes
Covers the major research, including classical personality accounts, developmental approaches, socio-cognitive research focussing on categorization and stereotyping, prejudice as an intergroup phenomenon, and ways to combat prejudice
Illustrates concepts with examples of different kinds of prejudice drawn from everyday life
Includes a new chapter on prejudice from the victim's perspective
Fully updated throughout, with expansion of the notions of explicit and implicit manifestations of prejudice