Prejudice and Discrimination in Europe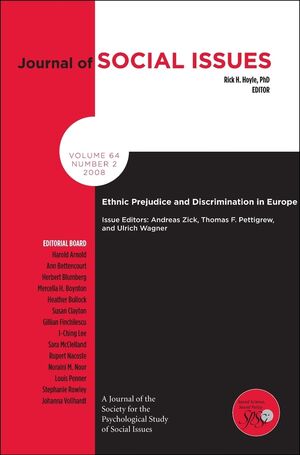 Prejudice and Discrimination in Europe
ISBN: 978-1-405-18883-8 June 2008 Wiley-Blackwell 200 Pages
Description
All papers concentrate on empirical findings throughout Europe as well as cross-national comparisons. This research reveals both consistent patterns and intriguing differences across countries.

New research data from Western and Eastern European surveys and experiments

New theoretical conceptualizations of prejudice

Multi-disciplinary approaches

Debate on policy making with reference to non European countries
INTRODUCTION.
I Ethnic Prejudice and Discrimination: Andreas Zick, Thomas F. Pettigrew, and Ulrich Wagner.
RESEARCH AND THEORY.
II Everyday Racism as Predictor of Political racism in Flemish Belgium: Jacque Billiet and Hans de Witte.
III More than Two Decades of Changing Ethnic Attitudes in the Netherlands: Marcel Coenders, Marcel Lubbers, Peer Scheepers, and Maykel Verkuyten.
IV Black Immigrants in Portugal: Luso-tropicalism and Prejudice: Jorge Vala, Diniz Lopes, and Marcus Lima.
V Post-conflict Reconciliation: Intergroup Forgiveness and Implicit Biases in Northern Ireland: Tania Tam, Miles Hewstone, Jared Kenworthy, Ed Chairns, Claudia Marinetti, Leo Gedens, and Brian Parkinson.
VI Types of Identification and Intergroup Differentiation in the Russian Federation: Anca Minescu, Louk Hagendoorn, and Edwin Poppe.
VII Anti-Semitic Attitudes in Europe - a Comparative Perspective: Werner Bergmann.
VIII The Syndrome of Group-Focused Enmity: The Interrelation of Prejudices Tested with Multiple Cross-Sectional and Panel data: Andreas Zick, Carina Wolf, Beate Küpper, Eldad Davidov, Peter Schmidt, and Wilhelm Heitmeyer.
IX Relative Deprivation and Intergroup Prejudice: Thomas F. Pettigrew, Oliver Christ, Ulrich Wagner, Roel W. Meertens, Rolf van Dick, and Andreas Zick.
X Prejudice and Group-Related Behavior in Germany: Ulrich Wagner, Oliver Christ, and Thomas F. Pettigrew.
COMMENTARY.
XI Viewing Intergroup Relations in Europe through Allport's Lens Model of Prejudice: Walter G. Stephan


New research data from Western and Eastern European surveys and experiments


New theoretical conceptualizations of prejudice


Multi-disciplinary approaches


Debate on policy making with reference to non European countries