Premarital and Remarital Counseling: The Professional's Handbook, 2nd Edition, Revised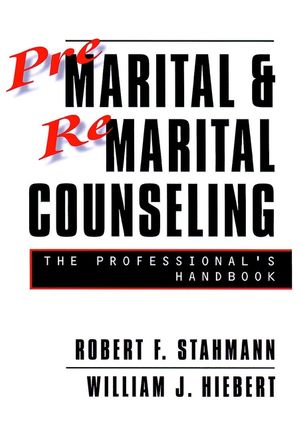 Premarital and Remarital Counseling: The Professional's Handbook, 2nd Edition, Revised
ISBN: 978-0-787-90845-4
May 1997, Jossey-Bass
224 pages
Description
The definitive guide to premarital counseling

This is the best premarital counseling guide I have seen in more than three decades in the family therapy and family life education fields.
-- William C. Nichols, editor, Contemporary Family Therapy

Following the success of the first two editions of this book, the authors updated their indispensable guide on the process and content of premarital counseling. In this revised edition, they have added important information about issues in the forefront today: remarriage, the blended or step-family, intergroup marriages, and younger and older couples. Filled with practical and effective hands-on questionnaires and instruments that have been newly revised and widely tested by the authors, this book is written to meet the needs of a range of professionals, including clergy and clinicians in social work, psychology, counseling, and marriage and family therapy.
FOUNDATIONS.

1. Developments in Premarital and Remarital Counseling.

2. Why Marry in the First Place, and Why e Marry Again.

THE COUNSELING PROCESS.

3. Foundations and Goals of Premarital and Remarital Counseling.

4. Conjoint Counseling and the Dynamic Relationship History.

5. Exploring the Family of Origin and Previous Relationships.

6. Premarital and Remarital Counseling Inventories.

SPECIAL TOPICS.

7. Remarriage and Stepparenting.

8. Group Counseling.

9. Communication, Values, Decision Making, and Finances.

10. Intimacy and Sexuality.

11. Special Situations: Very Young and Older First Marriages. Forced Marriages, Conflicted Relationships.
"This book is destined to become the standard text for step-by-step counseling with couples approaching marriage or remarriage. . . Professionals working with these clients will find this volume an excellent resource." (James E. Tooley, MSW, Southeastern Counseling Associates, New Bedford, MA)

"This book is destined to become the standard text for step-by-step counseling with couples approaching marriage or remarriage. . . . Professionals . . . will find this volume an excellent resource." (Readings: A Journal of Reviews and Commentary in Mental Health)

"Filled with practical and useful techniques, this book will undoubtedly be an invaluable resource for any ministers who seek to improve their premarital work with couples. . . . A significant contribution to the field of premarital and remarital counseling." (Journal of Family Ministry)

"This book will save many thousands of marriages, and prevent many more from marrying an unsuitable partner. For couples and experts alike, all you every need to know about preparation for marriage." (Amitai Etzioni, author of The New Golden Rule: Community and Morality in a Democratic Society)

"This is the best premarital counseling guide I have seen in more than three decades." (William C. Nichols, editor, Contemporary Family Therapy)

"The authors have improved and update their already useful book. Clergy and professional counselors will find new insights and contemporary applications." (Fred Van Tatenhove, chair: Department of Pastoral Ministry, Asbury Theological Seminary, Wilmore, Kentucky)

"The single best resource currently available for any helping professionals wanting to improve their skills in working with premarital and remarried couples." (David H. Olson, professor, family social science, University of Minnesota)

"An excellent resource. In this face of premarital counseling today: remarriage and the stepfamily, intergroup marriage, and "younger" and "older" couples. Filled with practical and useful techniques, this book will undoubtedly be an invaluable resource for any minister who seeks to improve his premarital work with couples ... The authors have once again made a signigicant contribution to the field of premarital and remarital counseling. I highly recommend it." (Ron L. Deal, M.MFT., CFLE, Family Life Minister, Southwest Church of Christ, Jonesboro, AR)