Premiere and After Effects Studio Secrets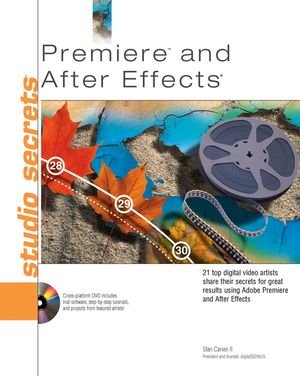 Premiere and After Effects Studio Secrets
ISBN: 978-0-764-53677-9
Dec 2002
320 pages
Product not available for purchase
Description
Includes inspiration, tips, and tricks from 21 different digital video gurus. With topics as varied as How to edit a political campaign video, Bringing Artistry to Wedding Videos, A behind-the-scenes look indy filmmaking; this book is sure to have something for every digital videographer.
ABOUT THE DVD-ROM
Any book about creating moving pictures and stunning video effects would be incomplete without a DVD-ROM demo of those techniques. A valuable DVD-ROM will include all of the work files for each chapter, all of the source materials, detailed step-by-step tutorials on how to create the effects as seen in the book, demo reels from the featured artists, and trial versions of software used in the book.
Foreword.
Preface.
Acknowledgments.
Chapter 1: Creating Stock Footage on a Shoestring Budget.
Chapter 2: Producing High-End Weddings.
Chapter 3: Incorporating Royalty-Free Elements in Your Production.
Chapter 4: Seamless Compositing.
Chapter 5: Video Anarchy.
Chapter 6: Creating a Soundtrack to Fit Your Video.
Chapter 7: Impacting Your Audience.
Chapter 8: Working with Film in a Cartoon World.
Chapter 9: Digital Video: Overcoming Its Quirks.
Chapter 10: Editing for Generation X.
Chapter 11: Finishing 3D in the 2D World.
Chapter 12: Synthesizing Art with Masks, Expressions, and Particles.
Chapter 13: Creating Onscreen Graphics.
Chapter 14: Stepping into the Third Dimension.
Chapter 15: Cell Animation in After Effects.
Chapter 16: Making Station IDs and Other Creative Tangents.
Chapter 17: Weathering the Elements with the Fundamental Tools.
Chapter 18: Designing Interactive Menus for DVD.
Chapter 19: Independent Filmmaking.
Chapter 20: Compressing Video for the World Wide Web and Beyond.
Appendix A: What's on the DVD?
Appendix B: Third-Party Resources.
Index.
About the Author.
Colophon.
End-User License Agreement.
Chapter
Page
Details
Date
Print Run
CD
Errata page
View the errata page.

---