Prenatal Diagnosis: Cases and Clinical Challenges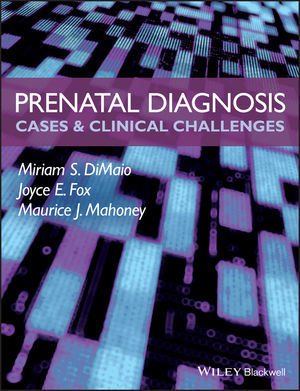 Prenatal Diagnosis: Cases and Clinical Challenges
ISBN: 978-1-405-19143-2 August 2010 Wiley-Blackwell 136 Pages
Description
How can prenatal testing help your patients?
In utero diagnosis has undergone an amazing revolution in recent years. More tests are available; the indications for prenatal diagnosis have expanded - you can now advise your patients about disorders you could not have previously detected. Medical training for obstetricians, medical geneticists, and genetic counselors has not kept pace with these developments. Clinical exposure to common and unusual problems in prenatal diagnosis is limited.
Prenatal Diagnosis: Clinical Cases and Challenges, based on the authors' several decades of experiences, fills this gap. Real cases portray diagnostic problems as a route to the underlying biology, the available testing options, and the results that might be obtained. The authors discuss the challenges of management, interpretation, and counseling.
Cases used throughout emphasize three types of clinical problems:
Chromosomal abnormalities
Mendelian disorders
Fetal structural abnormalities
The decision to enter the world of prenatal diagnosis should be very carefully considered by any prospective mother. Prenatal Diagnosis: Clinical Cases and Challenges will help you discuss the issues in an informed manner with your patients.
Table of contents
Introduction.
Chapter 1 Cytogenetic Abnormalities.
Introduction to cytogenetic abnormalities.
Common aneuploidy – recurrence risks and counseling pitfalls.
Chromosomal mosaicism – prenatal diagnosis.
Chromosomal mosaicism – postnatal diagnosis.
Reciprocal translocations and structural abnormalities.
Robertsonian translocations.
Sex discrepancies.
Chapter 2 Introduction to Mendelian Disorders.
Chapter 3 Autosomal Dominant Disorders.
Features of autosomal dominant inheritance.
Polycystic kidney disease.
Hereditary non-polyposis colon cancer.
Huntington disease.
Marfan syndrome.
Retinoblastoma.
Tuberous sclerosis.
Chapter 4 Autosomal Recessive Disorders.
Features of autosomal recessive inheritance.
Congenital adrenal hyperplasia.
Cystic fibrosis.
Spinal muscular atrophy.
Hemoglobinopathies.
Fanconi anemia.
Maple syrup urine disease.
Chapter 5 X-linked Disorders.
Features of X-linked inheritance.
Duchenne muscular dystrophy.
Hunter syndrome.
Fragile X syndrome
Factor VIII deficiency.
X-linked adrenoleukodystrophy.
Chapter 6 Mitochondrial Inheritance.
Features of mitochondrial inheritance.
Leigh syndrome.
Chapter 7 Multifactorial Inheritance.
Features of multifactorial inheritance.
Multifactorial inheritance.
Chapter 8 Abnormal Ultrasound Findings.
Recurrent hypotonia and polyhydramnios.
Holoprosencephaly.
Abnormalities of the digits.
Multicystic kidneys.
Omphalocele.
Recurrent fetal hydrops.
Nonmotile ciliopathies.
Chapter 9 Skeletal Dysplasias.
Achondroplasia and hypochondroplasia.
Osteogenesis imperfecta type II.
Short rib polydactyly syndromes.
Chapter 10 Imprinting Disorders.
Chapter 11 First and Second Trimester Screening Tests.
Chapter 12 Infertility.
Chapter 13 Family History.
Chapter 14 Consanguinity.
Chapter 15 Non-paternity.
Chapter 16 Fetal Infection.
Chapter 17 Teratogens.
Chapter 18 Autism.
Chapter 19 Glossary.
Reviews
"This is an informative book that appears to be geared more for genetic counselors." (Doody's, 21 October 2011)
"Prenatal Diagnosis: Clinical Cases and Challenges, based on the authors' several decades of experiences, fills this gap. Real cases portray diagnostic problems as a route to the underlying biology, the available testing options, and the results that might be obtained. " (Morningstar News, 8 March 2011)