Preparative Enantioselective Chromatography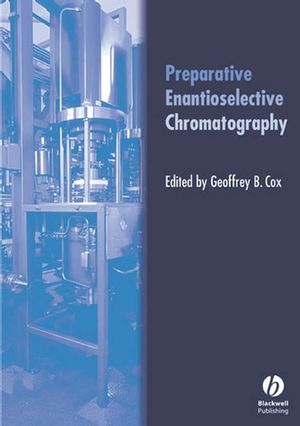 Preparative Enantioselective Chromatography
ISBN: 978-1-405-11870-5 June 2005 Wiley-Blackwell 344 Pages
Description
The development of chiral liquid chromatography, facilitating the straightforward separation of enantiomers, was a significant advance in chromatography, leading to widespread application in analytical chemistry. Application in preparative chromatography has been less rapid, but with the development of single enantiomer pharmaceuticals its use is increasingly common in chemical synthesis at laboratory, pilot plant and even full production scale.


Brings non-experts up to speed quickly and comprehensively, facilitating the rapid development of effective separations of enantiomeric mixtures on a range of process scales

Presents case studies drawn from within the pharmaceutical industry to clearly illustrate the utility and value of preparative scale enantioselective chromatography in chemical research, development and production

Key reference source and entry to the literature so the reader does not have to engage in expensive and time consuming literature searching
Table of contents
Contributors.
Preface.
1. Chiral Chromatography in Support of Pharmaceutical Process Research (Christopher J. Welch).
2. Introduction to Preparative Chromatography (Geoffrey B. Cox).
3. Chiral Stationary Phases for Preparative Enantioselective Chromatography (Eric Francotte).
4. Method Development for Preparative Enantioselective Chromatography (Christina Suteu).
5. Scaling-Up of Preparative Chromatographic Enantiomer Separations (Jules Dingenen).
6. Steady-State Recycling and Its use in Chiral Separations (Charles M. Grill and Laurence M. Miller).
7. Simulated Moving Bed and Related Techniques (Luís S. Pais, Vera G. Mata and Alírio E. Rodrigues).
8. Preparative-Scale Supercritical Fluid Chromatography (Manon S. Villeneuve and Luke A. Miller).
9. Equipment for Preparative and Large Size Enantioselective Chromatography (Henri Colin, Olivier Ludemann-Hombourger and Félicie Denet).
10. Case Study in Production-Scale Multicolumn Continuous Chromatography (Michel Hamende).
11. Contract Manufacturing and Outsourcing Considerations (Olivier Dapremont).
Appendix: Advanced Concepts.
Index.
Reviews
"With such a good coverage of the topics and a generous collection of references, the book is a pleasure to read and refer to. The book has struck almost exactly the right note in attractiveness of purpose and method of presentation. The book has a distinctly readable quality.
Both the editor and the authors are to be commended for sharing their insights and experience in such an easily accessed volume.
The entire volume is lavishly illustrated with tables, graphs and drawings, the design and execution and placement of which are as perfect as the text material they illustrate."
Current Engineering Practice
'The book is a delight to read.'

'Cox's book provides chemists and chemical engineers with valuable hints and advises. The authors are, in part, experienced practitioners in the industry and academics at the forefront of this field...at every stage, material is logically presented and easy to access.'

'In summary, this is an excellent compiled book with well-produced text'

Gregor Mann, Organic Process Research and Development, September 2005

"This book represents a valuable source of information on the multifaceted challenges one may encounter when performing preparative chromatographic enantiomer seperations, and large-scale chromatography in general ... [this] account will be warmly welcomed by clientele from both industry and academia, as it offers insightful and enjoyable reading, even to the expert."
Analytical and Bioanalytical Chemistry
Features


Brings non-experts up to speed quickly and comprehensively, facilitating the rapid development of effective separations of enantiomeric mixtures on a range of process scales

Presents case studies drawn from within the pharmaceutical industry to clearly illustrate the utility and value of preparative scale enantioselective chromatography in chemical research, development and production

Key reference source and entry to the literature so the reader does not have to engage in expensive and time consuming literature searching