Preparing Principals for a Changing World: Lessons From Effective School Leadership Programs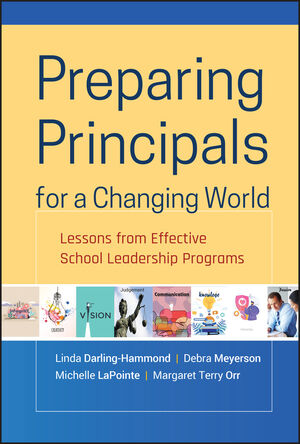 Preparing Principals for a Changing World: Lessons From Effective School Leadership Programs
ISBN: 978-0-470-57995-4
Nov 2009, Jossey-Bass
336 pages
Description
Preparing Principals for a Changing World provides a hands-on resource for creating and implementing effective policies and programs for developing expert school leaders. Written by acclaimed author and educator Linda Darling-Hammond and experts Debra Meyerson, Michelle LaPointe, and Margaret Terry Orr, this important book examines the characteristics of successful educational leadership programs and offers concrete recommendations to improve programs nationwide.

In a study funded by the Wallace Foundation, Darling-Hammond and the team examined eight exemplary principal development programs, as well as state policies and principals' experiences across the country. Using the data from the study, they reveal how successful programs are structured, the skills and knowledge participants gain, and what they are able to do in practice as school leaders as a result.

What do these exemplary programs have in common? Aggressive recruitment; close ties with schools in the community; on-the-ground training under the wing of expert principals, and a strong emphasis on the cutting-edge theories of instructional and transformational leadership.

In addition to highlighting the programs' similarities, the study also explains the differences among the programs and sheds light on the effectiveness of approaches and models from different states and contexts?East, West, North, and South; urban and rural; pre-service and in-service. The authors analyze program outcomes for principals and their schools, including illustrative case studies and educators' voices on the influence of programs' strategies for recruitment, internships, mentoring, and coursework.

The ideas and suggestions outlined in Preparing Principals for a Changing World are presented with the goal of increasing the number of highly qualified, thoughtful, and innovative educational leaders.
Preface.
Acknowledgments.
Chapter One: Developing School Leadership: The Current Challenge.
Chapter Two: Studying Exemplary Programs.
Chapter Three: Preparing New Leaders: What Successful Programs Do.
Chapter Four: Sustaining School Leaders: Supports for On-the-Job Learning.
Chapter Five: Evaluating Programs: What Well-Prepared Principals Know and Are Able to Do.
Chapter 6: Supporting Exemplary Programs.
Chapter 7: Creating Policy for Leadership Development.
Chapter 8: Pulling it All Together: Conclusions and Implications.
Appendix A: Research Methods.
Appendix B: Survey Instruments.
Appendix C: Cross-State Comparisons of Principals' Survey Data.
References.
Praise for Preparing Principals for a Changing World
"Linda Darling-Hammond and her co-authors focus laser-like attention on school leadership, superbly underscoring the urgent need to get it right. This book is full of clear recommendations on how to shape and sustain the leadership talent our schools deserve. It involves collaborative, common-sensed approaches, such as cohort structures, carefully targeted recruitment, collegial support networks, and real-world learning experiences."
—Arlene Ackerman, superintendent, School District of Philadelphia
"Preparing Principals for a Changing World is the definitive guide for educators engaged in leadership. This profoundly insightful book clearly addresses the key issues of how to best prepare and support principals."
—Michael Fullan, author of The Six Secrets of Change: What the Best Leaders Do to Help Their Organizations Survive and Thrive
"Linda Darling-Hammond and her co-authors provide research and insight that drives home the point that effective principals are a prerequisite for effective schools. They explicitly state that principals' preparation, development, and readiness are critical factors in advancing and sustaining successful school redesign. Additionally, Darling-Hammond and her colleagues highlight the characteristics of principal development programs—identifying the specific components that make a difference in preparing school leaders and best practices that have the potential to impact all preparation programs. This book makes a significant contribution to the preparation of tomorrow's school leaders."
—Gerald N. Tirozzi, executive director, National Association of Secondary School Principals