Preparing Youth for the Crossing From Adolescence to Early Adulthood: New Directions for Youth Development, Number 111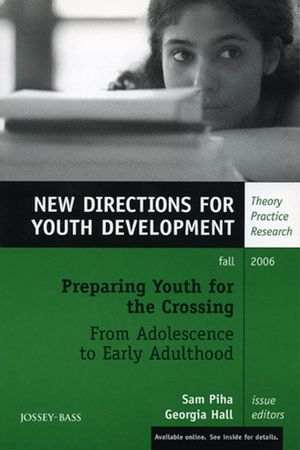 Preparing Youth for the Crossing From Adolescence to Early Adulthood: New Directions for Youth Development, Number 111
ISBN: 978-0-787-99497-6
Dec 2006, Jossey-Bass
144 pages
Description
This volume examines how developmental issues facing older youth impact their crossover into early adulthood, and investigates innovative strategies being employed to better meet the needs of these youth. Implications for policymakers and funders in taking the support of older youth to scale are also considered in this volume.

There is a growing concern that young people are reaching the age of eighteen unprepared for the primary challenge of young adulthood: successfully joining the workforce or continuing on to higher education or vocational training. In order to see outcomes improve for older youth, especially low-income youth of color, we must have a better understanding of their developmental needs in order to create supported pathways for their eventual transition to adulthood. This will require new policies to improve coordination at the systems level and increased attention to expanding their access to supportive institutions and services.

This is the 111th  volume of New Directions for Youth Development, a quarterly report published by Jossey-Bass.

Click here to view an entire listing of issues for New Directions for Youth Development. 
Editors' Notes (
Sam Piha, Georgia Hall
).
Executive Summary.
1. The passage to adulthood: Challenges of late adolescence (Nicole Zarrett, Jacquelynne Eccles)
This chapter examines the major developmental changes and challenges associated with late adolescence, as youth seek to acquire and consolidate the competencies, attitudes, values, and social capital necessary to make a successful transition into adulthood.
2. Designing for diversity: Incorporating cultural competence in prevention programs for urban youth (Marion J. Goldstein, Pedro A. Noguera)
This chapter affirms the importance of prevention programs in helping urban youth of color avoid the risks of substance abuse, but states that many such programs are ineffective. The authors offer an alternative program strategy that places diversity with respect to culture, class, and environment at the center of prevention efforts.
3. Teens and technology: Preparing for the future (Georgia Hall)
This chapter looks at the integration of technology skill building into youth development experiences with consideration of gender and race differences in technology access and utilization along with challenges that at-risk teens face.
4. First Things First: A framework for successful secondary school reform (James P. Connell, Adena M. Klem)
The chapter introduces First Things First, a school reform framework grounded in research about how young people develop and how schools promote students' engagement and learning in the process.
5. Three high school after-school initiatives: Lessons learned (Sarah Barr, Jennifer Birmingham, Jennifer Fornal, Rachel Klein, Sam Piha)
This chapter reviews the insights and lessons learned from three afterschool initiatives focused on the needs of high school youth.
6. Young people and social action: Youth participation in the United Kingdom and United States (Joan Arches, Jennie Fleming)
Two youth projects in the United Kingdom and United States demonstrate the use of social action as a program approach to encourage youth participation and civic engagement.
7. Workforce development for older youth (David E. Brown, Mala B. Thakur)
Experts in the workforce development field share insights into effective strategies to facilitate older youth's transitions to the workforce and highlight the supports youth need for successful adulthood, citizenship, and career pursuits.
8. Going the distance: Serving the needs of older youth at scale (Mark Ouellette)
This chapter explores the rationale for creating and implementing communitywide approaches for supporting older youth in their transitions to adulthood and offers recommendations for planning and action.
9. Supporting older youth: What's policy got to do with it? (Nicole Yohalem, Alicia Wilson-Ahlstrom, Thaddeus Ferber, Elizabeth Gaines)
This chapter highlights policy innovations related to teens' out-of-schooltime activities and then focuses on three principles that support the full range of older youth's unique developmental, social, and economic needs.
Index.