Preparing for Crises in the Schools: A Manual for Building School Crisis Response Teams, 2nd Edition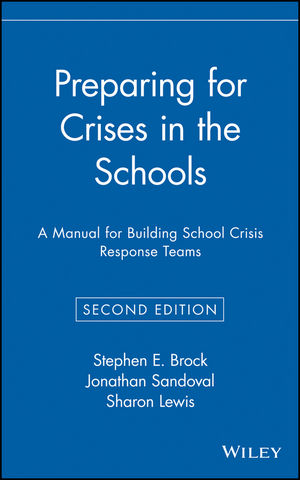 Preparing for Crises in the Schools: A Manual for Building School Crisis Response Teams, 2nd Edition
ISBN: 978-0-471-43734-5 March 2004 432 Pages
Description
A step-by-step guidebook for advance preparation and early responseto school crises

This Second Edition of Preparing for Crises in the Schools arrivesat a critical moment. With several recent dramatic examples ofschool violence and other tragedies afflicting communitiesnationwide, the need for school districts to take proactivemeasures-rather than merely react to a crisis-is critical.

This completely updated edition offers practical plans for layingthe important groundwork to ensure that crisis response will beboth immediate and thorough in the wake of tragedy. Authored bythree school crisis response planning experts, it offers advice onearly detection of trouble, developing plans and procedures tointervene with youths quickly and successfully, and conducting aschool in-service workshop on crisis response planning andintervention.

Essential for counselors, school psychologists, teachers, andadministrators alike, this book helps ensure that schools are notcaught by surprise when a crisis occurs.
Crisis Theory.

Getting Started.

Developing and Implementing a Crisis Response Policy.

Components of a Crisis Preparedness Plan.

Components of a Crisis Response.

Psychological Triage and Referral.

Crisis Intervention.

Media Relations.

Security and Safety Procedures.

Working with Potentially Violent Students.

Emergency Medical and Health Procedures.

Evaluating and Debriefing the Crisis Response.

References.

Appendices.

Index.