Presenting Service: The Ultimate Guide for the Foodservice Professional, 2nd Edition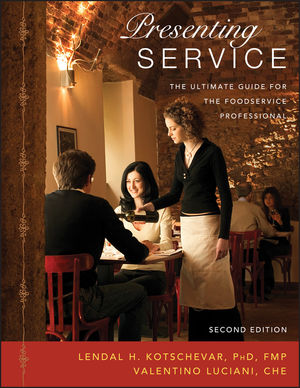 Presenting Service: The Ultimate Guide for the Foodservice Professional, 2nd Edition
ISBN: 978-1-118-46250-8 July 2012 272 Pages
Description
Serving people is difficult and demanding work, but the rewards outweigh the challenges. Education, training, and a professional atti-tude are the ingredients needed to harvest those rewards.  Presenting Service, 2E educates servers, supervisors, and managers in the techniques and demeanor of professional service.  This book pays special attention to the historical context of service, the manager's role in good service including hiring and managing employees, how to become a good server, and the various types of service in food-service operations.  There is an art to good service that can be trained and taught, and Presenting Service provides the manager with the skills to create a good dining experience through good service.
Table of contents
ix Preface
1 A Historical Overview of Service
2 Introduction
2 The Age of Service
3 Service: A Total Concept
6 A Historical Overview of Service
16 Chapter Summary
17 Chapter Review
17 Case Studies
2 The Professional Server
20 Introduction
20 Finding Work
20 Looking Professional
21 Demeanor and Attitude of Successful Servers
24 Learning Skills
24 Product Knowledge
24 Suggestive Selling
25 Organization
28 Tips
29 Unions
30 Laws Affecting Servers
33 Chapter Summary
34 Chapter Review
34 Case Studies
3 Exceeding People's Needs
36 Introduction
36 Managing Guest Complaints
39 Serving Guests with Special Needs
42 Chapter Summary
43 Chapter Review
43 Case Study
4 Service Mise en Place
46 Introduction
47 Getting Ready
62 Clearing and Resetting Tables
63 Ending the Meal
64 Quick-service Mise en Place
65 The Cash Bank
67 Chapter Summary
68 Chapter Review
68 Case Study
5 Service in Various Industry Segments
70 Introduction
70 Banquet Service
77 Service for Specific Meals
79 Buffet Service
82 Other Service
86 Chapter Summary
87 Chapter Review
87 Case Studies
6 Service Areas and Equipment
92 Introduction
92 Dining Area Equipment
97 Table Service Equipment
100 Menus
102 Service Staff
105 Chapter Summary
106 Chapter Review
107 Case Study
7 Classic Service Styles
110 Introduction
110 French Service
115 Russian Service
116 American Service
118 English Service
119 Chinese Service
121 Chapter Summary
122 Chapter Review
123 Case Study
8 Serving the Meal
126 Introduction
126 Steps in Serving
126 Greeting and Seating the Guests
129 General Rules and Procedures for Serving
133 Taking the Order
138 Serving the Guests
140 Clearing Tables
141 Presenting the Check and Saying Goodbye
143 Closing
143 Formal Dining
144 The Busperson's Role
146 Chapter Summary
148 Chapter Review
148 Case Studies
9 Bar and Beverage Service
152 Introduction
153 Some Important Facts about Beverage Alcohol
155 Knowing Spirits
158 Knowing Wine
163 Knowing Beer
165 Knowing Nonalcoholic Beverages
168 Hospitality Behind the Bar
169 Serving Spirits
171 Serving Wine
173 Serving Sparkling Wine
174 Serving Beer
174 Serving Nonalcoholic Drinks
175 Serving Alcohol Responsibly
179 Chapter Summary
181 Chapter Review
185 Case Studies
10 Management's Role in Service
188 Introduction
188 Establishing Service Standards
189 Management Functions
193 Motivating Servers
198 Scheduling Servers
199 Dining Room Arrangement
199 Kitchen Arrangement
199 Training Servers
202 Reservations
205 Chapter Summary
206 Chapter Review
207 Case Studies
11 Table Etiquette
212 Introduction
212 A History of Table Etiquette
213 Principles of Public Dining Etiquette
220 Tipping
221 Dining Etiquette of Various Cultures
225 Chapter Summary
226 Chapter Review
227 Case Studies
229 Glossary
237 Appendix: Duties of Service Workers
243 Index
New To This Edition
A full chapter on Bar and Beverage Service is new and includes coverage of specialty coffees, cocktails, wine service, and table etiquette as well as important information on serving alcohol responsibly specialty
Classic Service Styles including the techniques of French, Russian, American, English, and Chinese service are described in a separate new chapter.
A new chapter on Table Etiquette contains a historical perspective as well as a complete description of etiquette rules concerning special foods and various cultures such as European, Chinese Indian and Middle Eastern Dining.
Features Customer Service and Foodservice Security boxes that convey tips and best practices for handling customer and security issues throughout the book.
An expanded new glossary that includes additional key terms for bar and beverage service, table etiquette, and classic service styles.
Includes a new appendix: Duties of Some Service Workers that explains the responsibilities of the frontline staff including the host, server, bus person, and bar server.
Features Internet sources at the end of each chapter that provides websites for additional information presented in the chapter.
Features
Provides students with the skills to create a good dining experience through good service.
Includes helpful pedagogy throughout, such as learning objectives, key terms, chapter summaries, chapter reviews, and boxes covering such key topics as customer service, foodservice security, and sanitation
Filled with checklists that easily walk the server and manager through good service practices
Case studies are included throughout, which give students exposure to real world scenarios