Preventative Maintenance for Multi-Family Housing: For Apartment Communities, Condominium Assciations and Town Home Developments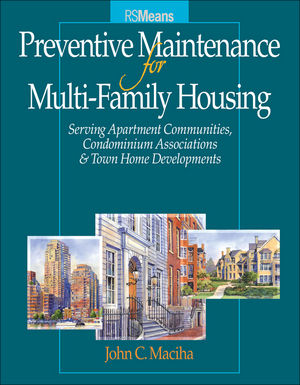 Preventative Maintenance for Multi-Family Housing: For Apartment Communities, Condominium Assciations and Town Home Developments
ISBN: 978-0-876-29783-4 March 2005 290 Pages
Description
Housing is one of the most expensive building types to construct. With 24/7 occupancy, multi-family buildings can also be some of the toughest to maintain. Prepared by one of the nation's leading experts on multi-family housing,
Preventive Maintenance for Multi-Family Housing
puts easy-to-use guidelines right at your fingertips for the what, when, why and how much of multi-family preventive maintenance.
Field tested in a range of apartment communities, it puts everything you need – all in one place – to:
Conduct a current maintenance audit of all major interior and exterior systems and components
Schedule on-going preventive maintenance inspections
Monitor repairs
Implement money-saving preventive maintenance procedures
Tend to wear factors and maintenance requirements of the most common construction materials
Estimate maintenance and repair projects with confidence
Get control of your maintenance budget
This complete PM system features checklists for buildings and grounds.
FEATURES:
More than 40 preventive maintenance checklists make this a ready-to-use tool.
Easy to reproduce and customize, the program's inspection checklists help you conduct a complete baseline maintenance audit of every major building system and component…schedule and conduct routine maintenance inspections…implement proactive replacement…and initiate appropriate repairs. All areas of the facility and grounds are covered, including lighting, security systems, fire safety, laundry rooms, building entryways and common areas, fitness and recreation areas, decks and balconies, HVAC systems, roofing, landscaping, parking, and dozens more.
Also includes sample work orders, repair costs, budget guidelines, a dedicated website with customizable forms and checklists.
Table of contents
About the Author.
Preface.
How to Use This System.
Part One: The Special Maintenance Requirements of Multi-Family Housing.
Basic Assumptions.
Apartment & Condominium Facilities.
Building Materials, Wear Factors, & Maintenance Requirements.
Maintenance & Repair Strategies for Housing.
Summary.
Part Two: Preventive Maintenance.
The Critical Contribution of Preventive Maintenance (PM).
Implementing a Preventive Maintenance System.
Common PM Tasks.
Establishing a Successful PM Protocol.
Summary.
Part Three: Estimating Preventive Maintenance Costs.
Steps in a PM Estimate.
Published PM Cost Data.
Summary.
Part Four: Budgeting & Funding.
Availability of Funds & Financing Mechanisms.
Budgeting for PM.
Factors That Affect the Budget.
The Precepts of Budgeting.
Preparing the Budget Back-up Sheet.
The Five-Year Asset Improvement Plan.
Achieving the Best Results, Despite the Challenges.
Summary.
Part Five: Preventive Maintenance Checklists.
Introduction.
Key to Terminology.
Bi-Weekly PM Tasks.
Automatic Gates/Doors.
Lighting: Exterior & Interior.
Security Systems.
Special Requirements.
Monthly PM Tasks.
Alarm Systems.
Doors & Windows.
Gas Connections.
Building Entryways.
Restrooms.
Business Offices.
Common Kitchens.
Fitness/Recreation Areas.
Locker Rooms.
Laundry Facilities.
Swimming Pools.
Play Areas.
Tennis Courts.
Landscape.
Paved Areas (Walkways, Driveways, & Parking).
Signage.
Exterior Stairs, Decks, Balconies, & Patios.
Maintenance Carts.
Non-Power Gates.
Special Requirements.
Semi-Annual PM Tasks.
Fences.
HVAC Systems.
Fire Alarm Water Flow Testing.
Smoke & Carbon Monoxide Detectors/Alarms.
Structural Members.
Special Requirements.
Annual PM Tasks.
Emergency Generators.
Backflow Devices.
Electrical Systems.
Fire Extinguishers.
Hot Water Heaters.
Roofing.
Gutters/Roof Drains.
Sewer Laterals.
Irrigation Controllers.
Storm Drains.
Special Requirements.
Every Five Years PM Tasks.
Fire System Certification.
Special Requirements.
Appendix: PM and Maintenance and Repair References.
Maintenance Cost Data.
Roofing Maintenance.
HVAC Maintenance.
Play Area Safety & Maintenance.
Figure A.1 Average Cleaning Times.
Figure A.2 A Summary of Basic Cleaning Solutions.
Figure A.3 Maintenance and/or Repair Procedures for AC-DC Motors.
Resources.
Glossary.
Index.