Preventing College Student Suicide: New Directions for Student Services, Number 141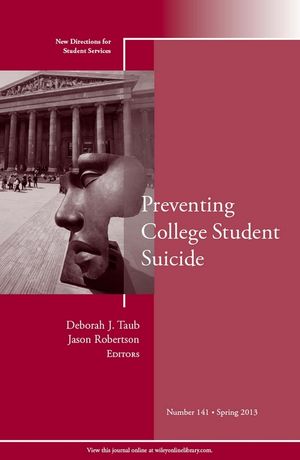 Preventing College Student Suicide: New Directions for Student Services, Number 141
ISBN: 978-1-118-70096-9 March 2013 Jossey-Bass 112 Pages
Description
Suicide is the second-leading cause of death among college students. Further, one in ten college students has considered suicide in the past year. Experts have called for a comprehensive, systemic approach to campus suicide prevention that addresses both at-risk groups and the general campus population.
Since 2005, 138 colleges and universities have received funding under the Garrett Lee Smith Memorial Act to develop and implement campus suicide prevention programs. This volume highlights successful strategies implemented by grantee campuses. These approaches can serve as models to address student suicide and prevention on other campuses.


This is the 141st volume of this Jossey-Bass higher education quarterly series. An indispensable resource for vice presidents of student affairs, deans of students, student counselors, and other student services professionals, New Directions for Student Services offers guidelines and programs for aiding students in their total development: emotional, social, physical, and intellectual.
EDITORS' NOTES 1
Deborah J. Taub, Jason Robertson
1. College Student Suicide 5
Deborah J. Taub, Jalonda Thompson
This chapter introduces the problem of college student suicide and the broader context of college student mental health within which it is situated.
2. The Public Health Approach to Campus Suicide Prevention 15
Elizabeth C. Jodoin, Jason Robertson
Experts have recommended taking a public health approach to suicide prevention. This chapter presents public health theories and approaches to campus suicide prevention.
3. Gatekeeper Training in Campus Suicide Prevention 27
Cory Wallack, Heather L. Servaty-Seib, Deborah J. Taub
One popular approach to suicide prevention on campus is training gatekeepers, those people who are in positions to come into contact with students at risk for suicide. This chapter presents factors that need to be addressed to implement a successful gatekeeper training program.
4. Peer Education in Campus Suicide Prevention 43
Julie A. Catanzarite, Myles D. Robinson
This chapter describes how peer education, long used in health promotion, was applied to college student mental health concerns and campus suicide prevention.
5. Suicide Prevention for LGBT Students 55
R. Bradley Johnson, Symphony Oxendine, Deborah J. Taub, Jason Robertson
This chapter explores suicide risk for LGBT students and risk factors and protective factors for suicide among LGBT students.
6. Suicide Prevention in a Diverse Campus Community 71
Richard Shadick, Sarah Akhter
This chapter presents a description of how one campus developed a novel approach to suicide prevention in a diverse campus community.
7. Postsuicide Intervention as a Prevention Tool: Developing a Comprehensive Campus Response to Suicide and Related Risk 83
M. Dolores Cimini, Estela M. Rivero
Postsuicide intervention—what you do after a suicide occurs—is an important part of a comprehensive approach to campus suicide prevention.
INDEX 97