Preventing Lawsuits: The Role of Institutional Research: New Directions for Institutional Research, Number 96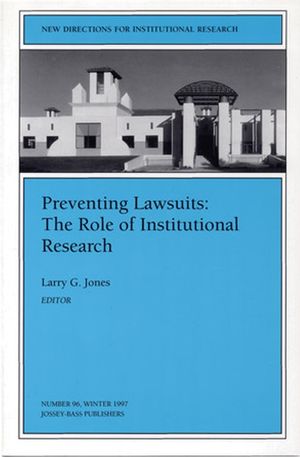 Preventing Lawsuits: The Role of Institutional Research: New Directions for Institutional Research, Number 96
ISBN: 978-0-787-99876-9
Apr 1998, Jossey-Bass
120 pages
Description
This volume examines what institutions and institutional researchers might do to keep themselves out of court, although contributors also suggest how institutional research pertains when institutions do And up in court. Preventive law--the efforts of attorneys and clients to minimize legal risks--may be the most appropriate construct for meeting the needs of institutions. By linking institutional research with the practice of preventive law, (1) the opportunity for a new, expanded, and more significant role for institutional research in dealing with the legal issues facing colleges and universities is demonstrated, (2) new concepts and tools are identified for institutions to use in minimizing risks of all kinds, and (3) a frame of reference for personal and professional guidance in dealing with the law is suggested. It is clear that institutional research has an important role to play in keeping the institution both legally healthy and healthy legally. This is the 96th volume of the quarterly journal New Directions for Institutional Research.
1. This Legal Stuff Is Getting Serious (James R. Montgomery).
2. Copyright Law and Institutional Researchers (Patricia A. Hollander).
3. The Impact on Institutional Research of Open Meeting and Open Records Laws in Higher Education (Timothy D. Letzring).
4. Legal Cases and Institutional Research Involving Faculty Dismissals Based on Financial Exigency (Timothy D. Letzring).
5. Student Judicial Programs and Institutional Research: Three Critical Questions (William R. Bracewell).
6. Researchers as Consultants and Expert Witnesses (Cameron L. Fincher).
7. Dealing with the Complexities of Higher Education and the Law: An Attorney's Perspective (Patrick McKee).
8. Institutional Research and Preventive Law: A Partnership (Larry G. Jones).