Preventing Suicide: The Solution Focused Approach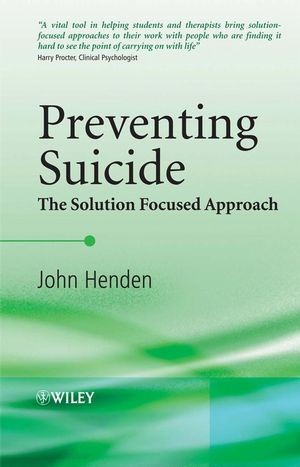 Preventing Suicide: The Solution Focused Approach
ISBN: 978-0-470-98570-0
Sep 2008
250 pages
Description
The book looks at secondary suicide prevention (treatment for those thinking about suicide or who are actively suicidal) and is very practically focused. The first chapter reviews the prevention literature and discusses the healthier nation targets. The second chapter outlines solution focused brief therapy and presents the evidence base for this approach. Chapters 3 and 4 focus on risk assessment, management and medication. Chapter 5 presents an in-depth case study and the final chapter presents five shorter case studies. The appendices contain examples of exercises that can be given to clients.
About the Author.
Foreword.
Preface.
Acknowledgements.
1. How to Use this Book.
2. The Book's Style and Purpose.
3. Defining Suicide and Self-Harm.
4. Current Service Provision: Risk Assessment, Management and Medication.
5. Other Approaches to Helping the Suicidal.
6. What is Solution Focused Brief Therapy.
7. Suicide Encounters: The Crucial First Ten Minutes.
8. The Solution Focused Approach in Working with the Suicidal.
9. Case Study: Reg and 'the Demons Calling from the Deep'.
10. Some more Case Vignettes.
11. Where do we go from Here?
References.
Appendix 1.
Appendix 2.
Appendix 3.
Appendix 4.
Author Index.
Subject Index.
The book is a good addition to the library of anyone interested in the broad topic of cultural psychiatry. It reminds us that the importance of culture and ethnicity is not only to be seen in the context of symptom expression, or even in that of prevalence of disorders, but in the equally important context of how and why we often respond or fail to respond to psychotropic drugs. (
The British Journal of Psychiatry
, March 2010)