Prevention is Primary: Strategies for Community Well Being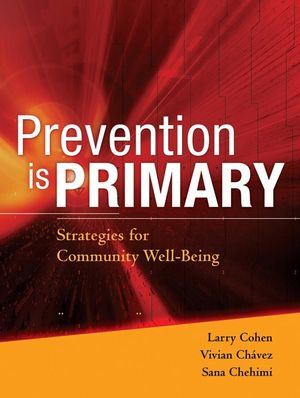 Prevention is Primary: Strategies for Community Well Being
ISBN: 978-0-787-99563-8
May 2007, Jossey-Bass
400 pages
Description
At a time of unprecedented challenges and opportunities for public health, Prevention is Primary provides models, methods, and approaches for building health and equity in communities. Written in accessible and understandable language, this comprehensive book includes the theory, concepts, and models needed to harness social justice and practice primary prevention of unnecessary illness and injury in the first place.

Prevention is Primary, written by associates of the nationally renowned Prevention Institute, is a theory-to-practice book for students, faculty practitioners, and community leaders who want to take a proactive stance against the most pressing health problems in the community including asthma, tobacco, violence, HIV, poor nutrition and physical inactivity, health disparities, and environmental injustice. The volume provides a comprehensive and practical understanding of prevention on a community level. The authors define the elements of comprehensive, quality prevention efforts—from the necessary partnerships that need to be developed to the training, vision, and policies that go into successful efforts.
List of Tables, Figures, and Exhibits.
Acknowledgments.
Foreword (Georges C. Benjamin).
The Contributors.
Introduction (Larry Cohen, Vivian Chávez, Sana Chehimi).
PART ONE: DEFINING THE ISSUES.
1 Beyond Brochures: The Imperative for Primary Prevention (Larry Cohen, Sana Chehimi).
2 Achieving Health Equity and Social Justice (Wayne H. Giles, Leandris C. Liburd).
3 Gender, Health, and Prevention (Michelle Ramirez, Siobhan Maty, Leslie McBride).
4 The Hope of Prevention: Individual, Family, and Community Resilience (Bonnie Benard).
PART TWO: KEY ELEMENTS OF EFFECTIVE PREVENTION EFFORTS.
5 Community Organizing for Health and Social Justice (Vivian Chávez, Meredith Minkler, Nina Wallerstein, Michael S. Spencer).
6 More Than a Message: Framing Public Health Advocacy to Change Corporate Practices (Lori Dorfman, Lawrence Wallack, Katie Woodruff).
7 Working Collaboratively to Advance Prevention (Larry Cohen, Ashby Wolfe).
8 Making Change: The Power of Local Communities to Foster Policy (Makani Themba-Nixon).
9 Using Media Advocacy to Influence Policy (Lori Dorfman).
10 Primary Prevention and Program Evaluation (Daniel Perales).
PART THREE: PREVENTION IN CONTEXT.
11 Preventing Injustices in Environmental Health and Exposures (Stephanie Ann Farquhar, Neha Patel, Molly Chidsey).
12 Health and the Built Environment: Opportunities for Prevention (Howard Frumkin, Andrew L. Dannenberg).
13 Creating Healthy Food Environments and Preventing Chronic Disease (Leslie Mikkelsen, Catherine S. Erickson, Marion Nestle).
14 Strengthening the Collaboration Between Public Health and Criminal Justice to Prevent Violence (Deborah Prothrow-Stith).
15 The Limits of Behavioral Interventions for HIV Prevention (Dan Wohlfeiler, Jonathan M. Ellen).
Name Index.
Subject Index.
Larry Cohen is a nationally known leader in the area of prevention. Through his articles, consulting work, and workshops, he has become synonymous with the concept of primary prevention. The model developed by his organization -- the Spectrum of Prevention -- is widely cited as the essential model for building an effective community-wide preventive health program.
All-star panel of contributors: CDC's Larry Green, APHA's executive director George Benjamin, Harvard School of Public Health's Deborah Prothrow-Stith, Children Defense Fund's Karen Pittman,  Brown University's Rachel Morello-Frosh, NYU's Marion Nestle, John Hopkins/Bloomberg School of Public Health's Thomas LaVeist, etc.
Practical approach, translating research and theory into effective practice, drawing from a national base of demonstration projects and evaluations in a full array of preventive efforts (tobacco, violence, pregnancy, drugs, obesity, HIV).
First treatment of topic that is specifically applicable to those who need it most: faculty, students, and pracitioners in public and community health.