Prevention of Type 2 Diabetes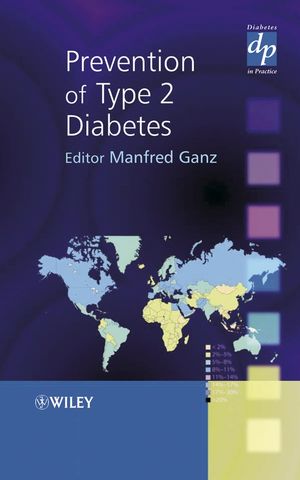 Prevention of Type 2 Diabetes
ISBN: 978-0-470-85735-9 June 2005 376 Pages
Description
This book provides a unique and comprehensive synopsis of the prevention and early diagnosis of Type 2 Diabetes. It features articles by key opinion leaders in diabetes from North America, Europe and the Asia-Pacific region who describe the gravity of the problem and the important issue of screening, including contributions on the perspectives of the International Diabetes Federation and the World Health Organization.

Once patients at risk have been identified, the key issue is to prevent their progression to full-blown diabetes. Several chapters address this, particularly the difficult task of changing people's behaviour. Prevention of the complications associated with diabetes involves more targeted interventions, which are discussed by experts in the relevant areas.

This book offers both a global perspective and local solutions. Key contributors include Paul Zimmet and Pierre Lefèbvre, President of the International Diabetes Federation who has written a chapter and a foreword.

Praise from the reviews:

"[A]n excellent resource for professionals who want a good means for getting up to speed on the prevention angle. It is all-inclusive from many perspectives – authorship of chapters, rich reference lists, and content (…). This book is a one-stop source for understanding the state of current prevention knowledge about type 2 diabetes."
—DIABETES TECHNOLOGY & THERAPEUTICS

"This is a timely and helpful treatment of an important public health topic. I am unaware of any other contemporary books which address exactly this issue."
—DOODY'S HEALTH SERVICES

"An ambitious title, written by some of the world's leading diabetologists, it takes a very careful approach ( …)"
—PEDIATRIC ENDOCRINOLOGY REVIEWS (PER)
Foreword.
Preface.
List of Contributors.
SECTION 1: THE DIABETES EPIDEMIC: DESCRIPTION OF THE PROBLEM.
1. The Diabetes Epidemic; Genes and Environment Clashing (Paul Zimmet, Adrian Cameron and Jonathan Shaw).
2. Type 2 Diabetes Mellitus: Primary and Secondary Prevention The Vision of the International Diabetes Federation (Pierre Lefèbvre).
3. Type 2 Diabetes Mellitus in Children and Adolescents (Thomas Reinehr and Martin Wabitsch).
SECTION 2: SCREENING FOR TYPE 2 DIABETES.
4. Screening for Undiagnosed Diabetes: Whom, Where, When and How (Tim Kenealy, Bruce Arroll and Peter Müller).
5. Genetic Screening and Prevention of Type 2 Diabetes (Paolo Pozzilli).
6. Screening Parameters and Techniques: Limitations and Opportunities (Knut Borch-Johnsen and Charlotte Glümer).
7. Screening for Diabetes Mellitus – the World Health Organization Perspective (Gojka Roglic, Rhys Williams and Stephen Colagiuri).
SECTION 3: PREVENTION OF TYPE 2 DIABETES.
8. Findings from Preventive Type 2 Diabetes Trials (Markolf Hanefeld).
9. A Paradigm Shift is Needed in the Primary Prevention of Type 2 Diabetes (Jaakko Tuomilehto).
10. The Behaviour Change Process (Frank J. Snoek and Richard R. Rubin).
SECTION 4: PREVENTION OF COMPLICATIONS OF TYPE 2 DIABETES.
11. Preventive Disease Management – Risk Stratification as a New Tool in the Hands of General Practitioners (Thomas Konrad).
12. Prevention of Obesity and Lipid Disorders (Hermann Liebermeister).
13. Renal Dysfunction and Hypertension, Focus on Type 2 Diabetes (Carl Erik Mogensen).
14. Diabetic Retinopathy in the 21st Century: Screening and Visual Outcomes (Ayad Al-Bermani and Roy Taylor).
15. Prevention and Treatment of Diabetic Neuropathy (Anders A. F. Sima).
16. The Cardiologist's View: Prevention of Macrovascular Complications (Michael Faust, Sabine Wiedenmann and Reinhard Griebenow).
17. Milestones and New Perspectives in Prevention of Type 2 Diabetes and its Complications (Carl Erik Mogensen).
Index.
"…enjoyable and easy to read…a worthy library addition…" (
The Annals of Pharmacotherapy
, September 2005)
"…presents the latest global perspective on the affliction." (Electric Review, April/May 2005)
"This is a timely and helpful treatment of an important public health topic. I am unaware of any other contemporary books which address exactly this issue." (Doody's Health Services)
"An ambitious title, written by some of the world's leading diabetologists, it takes a very careful approach …" (Pediatric Endocrinology Reviews (PER), Vol. 3: September 2005)
" … an excellent resource for professionals … a one-stop source for understanding the state of current prevention knowledge about type 2 diabetes." (Diabetes Technology & Therapeutics, August 2006)