Preventive Cardiology: A Guide for Clinical Practice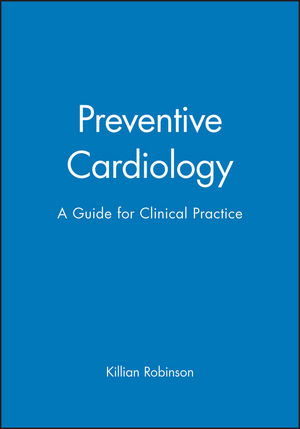 Preventive Cardiology: A Guide for Clinical Practice
ISBN: 978-0-879-93692-1 October 1998 Wiley-Blackwell 419 Pages
Description
A desire to avoid the massive social and financial costs associated with cardiovascular diseases has promoted a continued interest in preventive cardiology. Recent intervention studies have shown that the progress of these disorders may be arrested and potentially reversed. Other investigations have shown that primary prevention of cardiovascular disease is feasible using simple interventions.

This book provides a comprehensive approach to cardiovascular wellness from a clinical perspective. Perhaps the most valuable area covered is the comprehensive presentation of a clinical prevention program. This includes guidelines for designing and operating a preventive cardiology clinic, core concepts, an outline of algorithm-driven clinical practice, and a look at such issues as patient flow and resource requirements.
Introduction.
Killian Robinson.
1. Hypertension: Epidemiologic Appraisal.
William B. Kannel.
2. Pharmacologic Management of Arterial Hypertension.
Donald G. Vidt.
3. Physical Activity and Coronary Heart Disease.
Peter W.F. Wilson.
4. Diabetes Mellitus, Insulin Resistance and Coronary Heart Disease.
Peter W.F. Wilson.
5. Nutrition and Dietary Factors in Cardiovascular Disease.
Patricia J. Elmer.
6. Special Issues in the Management of Dyslipidemias.
Peter H. Jones, Antonio M. Gotto.
7. Homocysteine.
Anjan Gupta, Donald W. Jacobsen, Killian Robinson.
8. Prevention of Atherosclerosis in Children and Adolescents.
Peter O. Kwiterovich.
9. Preventive Cardiology in Women: The Gender-Specific Aspects of Coronary Risk.
Fredric J. Pashkow, JoAnne Micale Foody, Corinne Varin-LeBreton.
10. Preventive Cardiology in Minority Groups.
Thomas A. Pearson.
11. Arterial Gene Transfer as Preventive Therapy.
Laurent J. Feldman, Jeffrey M. Isner.
12. Smoking Cessation in Cardiac Preventive Health.
Garland Y. DeNelsky, Mary E. Bower.
13. Antiplatelet and Anticoagulant Therapy in the Prevention of Ischemic Heart Disease.
Steven R. Steinhubl, David J. Moliterno.
14. Organizational Design and Operations of a Preventive Cardiology Clinic.
Dennis L. Sprecher, JoAnne Micale Foody, Robert Hunter
"
Preventive Cardiology
is a very useful reference."
The New England Journal of Medicine
"The contents of this book are timely in a rapidly advancing field of preventive cardiology. The chapters are contributed by well-known authors in the field of cardiovascular epidemiology, cardiovascular risk factors and preventive cardiology. The articles are evidence based and well referenced. The flow is very easy and lucid, with appropriate figures and tables. It is a valuable textbook ...highly recommended as a source book in the field."
Canadian Journal of Cardiology
"This book provides a concise and thorough summary of preventive cardiology. It is well written and provides a concise reference which should be useful to the busy practitioner who may not be able to spend as much time with other more extensive books..."
Doody's Review Service
* interest in preventive cardiology continues to grow * provides a comprehensive approach to cardiovascular health