Pricing and Profitability Management: A Practical Guide for Business Leaders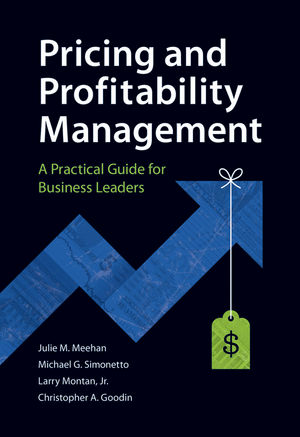 Pricing and Profitability Management: A Practical Guide for Business Leaders
ISBN: 978-0-470-82705-5 June 2011 320 Pages
Description
The practical guide to using pricing and profitability management to build a better business
A comprehensive reference for any business professional looking to understand the capabilities and competencies required for effectively managing pricing and profitability, Pricing and Profitability Management explains how to determine the right approach, tools, and techniques for each of six key categories (pricing strategy, price execution, advanced analytics and optimization, organizational alignment and governance, pricing technology and data management, and tax and regulatory effectiveness). Exploring each category in detail, the book addresses how an integrated approach to pricing improvement can give a sustainable, competitive advantage to any organization.
The ultimate "how to" manual for any executive or manager interested in price management, the book presents a holistic, comprehensive framework that shows how integrating these pricing categories into a cohesive program leads to impressive gains that cannot be achieved through a single-pronged approach.
Presents a comprehensive framework for more effectively managing pricing and profitability
Identities the six key categories of pricing and profitability management
Shows you how to gain a competitive edge by managing pricing and profitability
Taking a comprehensive view of pricing, companies can position themselves to tap a vast source of shareholder value—the ability to set and enforce profitable prices, not just once, but again and again in response to marketplace changes and evolving business needs—and this book will show you how.
Foreword.
Acknowledgments.
Chapter 1 Introduction to Pricing and Profitability Management.
Chapter 2 Conducting a Pricing and Profitability Diagnostic.
Chapter 3 Developing an Effective Pricing Strategy.
Chapter 4 Price Execution.
Chapter 5 Advanced Analytics and Price Setting.
Chapter 6 Achieving Effective Organizational Alignment and Governance.
Chapter 7 Pricing Technology and Data Management.
Chapter 8 Integrating Tax and Regulatory Policies with the Pricing Strategy.
Chapter 9 Pricing as a Sustainable Competitive Advantage.
Appendix What Is Value and Why Is It So Difficult to Measure?
Index.