Primary Care Cardiology, 2nd Edition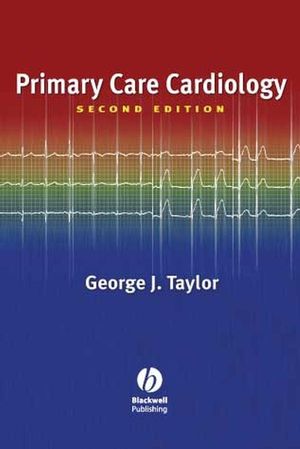 Primary Care Cardiology, 2nd Edition
ISBN: 978-1-405-10386-2 December 2004 Wiley-Blackwell 320 Pages
Description
Management of cardiovascular disease has changed dramatically, and the second edition of Primary Care Cardiology provides a comprehensive review of new treatment strategies.





By emphasizing the basic principles critical to understanding and managing heart disease while putting recent developments in the field into perspective, this practical guide also serves as a curriculum for doctors studying for board examinations or re-certification.





Helpful features include:






Over 50 classic cardiovascular diagrams

50 summary tables for quick reference

Concise overview of the vast body of cardiovascular literature

Straightforward, readable tone

Convenient pocket-size for rapid review
Written for primary care physicians, this book is also perfect for physician assistants and nurse practitioners.
Reviewers.
Preface.


Congestive Heart Failure Caused by Systolic Dysfunction

Disorders of Ventricular Filling: Diastolic Heart Failure, Restrictive Cardiomyopathy, and Pericardial Disease

Atherosclerosis: Mechanisms, Lipid Disorders, and Screening for Preclinical Disease

Angina Pectoris: Evaluation of Chest Pain and the Management of Angina Pectoris and Acute Coronary Syndromes

Myocardial Infarction

Cardiac Arrhythmias and Syncope

Valvular Heart Disease

Hypertension, Aortic Disease and Other Medical Illnesses with Cardiovascular Effects

Cardiology Consults:


Preoperative Care of the Patient Having Noncardiac Surgery

Isolated Right Heart Failure

Congenital Heart Disease Seen in Adults

Pregnancy and Heart Disease

End-of-Life Decisions and Palliative Care for Patients with Heart Disease
.
Index
"I really cannot find many faults with this text.
Primary Care Cardiology
is a wonderful book to refresh your knowledge about cardiology. I would recommend it to anyone who has a desire to learn more about cardiology in a clinically relevant way. This book gives you practical knowledge and the applications of that knowledge."
– MD, Cardiology Fellow, Lubbock, Texas

"I felt that the author provided clear, useful explanations for things that I have to date not heard explained so well, and I am continually impressed by the practical and applicable nature of the material covered in this text. It seems very relevant and appropriate for the primary care practitioner as well as the primary care PA/NP."

– RN, FNP, PA-C, Physician Assistant, La Jolla, California

"Previously, I used multiple sources for all this information. Primary Care Cardiology compiles a lot of information in one volume that I haven't seen pulled together in this same way before, and things are summarized in this text that I have not seen all in one source elsewhere. Overall, I think this book is an "A"!"

- MD, MPH, Instructor-Fellow, Family Medicine/Pediatrics,
Denver, Colorado "Primary Care Cardiology is a nice review of cardiovascular disease and the enormous literature that supports recent treatment recommendations. It seems like a practical guide for the majority of what one would encounter in the primary care setting. This is an important book that will serve as a nice brief review for the busy practitioner preparing for a board exam, or just searching to brush up on this critical topic."

– MD, MSc, Assistant Professor of Medicine, Kansas City, Kansas

"Primary Care Cardiology is current and up-to-date. The author has been in clinical practice for many years and draws upon that valuable and relevant experience. He provides helpful examples from his own experience and validates his hypothesis with years of results, bridging the gap between theory and practical application very effectively. As I read the text I feel like I can trust the advice given."

– RN, FNP, PA-C, Physician Assistant, La Jolla, California

"My overall impression of Primary Care Cardiology is that some valuable additions have been made to this book during the revision process. The information is up-to-date and concise. I especially appreciate the practical, less-formal tone."

– MD, MPH, Instructor-Fellow, Family Medicine/Pediatrics, Denver, Colorado

"The main strength of the book is the way it simplifies topics in a way that makes them easy to understand without making you feel like you are reading a remedial text. The combination of the text and the figures really makes it easy to understand these difficult concepts. Taylor's book could be read by anyone from a medical student or nurse to a practicing physician and be equally readable and helpful."

– MD, Cardiology Fellow, Lubbock, Texas
Comprehensive review of the new management strategies that primary care physicians should incorporate into their practices


Updated to address the recent explosion of clinical trials and evidence-based research

Emphasizes the basic principles critical to understanding and treating heart disease

Perfect for primary care physicians, physician assistants and nurse practitioners as well as an ideal curriculum for doctors studying for board examinations or recertification

Over 50 classic cardiovascular diagrams and 50 helpful summary tables

Convenient pocket-size for rapid review