Principles and Applications of Lithium Secondary Batteries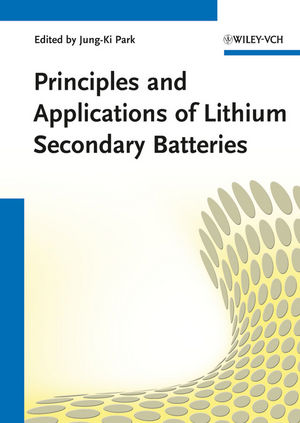 Principles and Applications of Lithium Secondary Batteries
ISBN: 978-3-527-33151-2 September 2012 380 Pages
Description
Lithium secondary batteries have been key to mobile electronics since 1990. Large-format batteries typically for electric vehicles and energy
storage systems are attracting much attention due to current energy and environmental issues. Lithium batteries are expected to play a central
role in boosting green technologies. Therefore, a large number of scientists and engineers are carrying out research and development on
lithium secondary batteries.

The book is written in a straightforward fashion suitable for undergraduate and graduate students, as well as scientists, and engineers
starting out in the field. The chapters in this book have been thoroughly edited by a collective of experts to achieve a cohesive book with a consistent style, level, and philosophy. They cover a wide range of topics, including principles and technologies of key materials such as the
cathode, anode, electrolyte, and separator. Battery technologies such as design, manufacturing processes, and evaluation methods as well as applications are addressed. In addition, analytical methods for determining electrochemical and other properties of batteries are also included.

Hence, this book is a must-have for everyone interested in obtaining all the basic information on lithium secondary batteries.

List of Contributors XI
Preface XIII
1 Introduction 1
1.1 History of Batteries 1
1.2 Development of Cell Technology 3
1.3 Overview of Lithium Secondary Batteries 3
1.4 Future of Lithium Secondary Batteries 7
2 The Basic of Battery Chemistry 9
2.1 Components of Batteries 9
2.2 Voltage and Current of Batteries 12
2.3 Battery Characteristics 15
3 Materials for Lithium Secondary Batteries 21
3.1 Cathode Materials 21
3.2 Anode Materials 89
3.3 Electrolytes 141
3.4 Interfacial Reactions and Characteristics 195
4 Electrochemical and Material Property Analysis 231
4.1 Electrochemical Analysis 231
4.2 Material Property Analysis 263
5 Battery Design and Manufacturing 319
5.1 Battery Design 319
5.2 Battery Manufacturing Process 327
6 Battery Performance Evaluation 337
6.1 Charge and Discharge Curves of Cells 337
6.2 Cycle Life of Batteries 342
6.3 Battery Capacity 344
6.4 Discharge Characteristics by Discharge Rate 347
6.5 Temperature Characteristics 349
6.6 Energy and Power Density (Gravimetric/Volumetric) 351
6.7 Applications 351
Index 355
"Getting back to the first line, this is the most highly recommended book for everybody interested in lithium-ion batteries at almost all levels of expertise, generously illustrated with carefully prepared figures."  (J Solid State Electrochem, 1 March 2013)
"Getting back to the first line: A most highly recommended book for everybody interested in lithium-ion batteries at almost all levels of expertise, generously illustrated with carefully prepared figures."  (Literaturtest, 1 March 2013)