Principles and Methods in Supramolecular Chemistry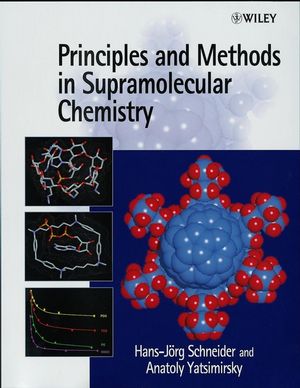 Principles and Methods in Supramolecular Chemistry
ISBN: 978-0-471-97253-2 February 2000 362 Pages
Description
Supramolecular chemistry is one of the most actively pursued fields of science. Its implications reach from molecular recognition in synthetic and natural complexes to exciting new applications in chemical technologies, materials, and biological and medical science. Principles and Methods in Supramolecular Chemistry gives a systematic and concise overview of this diverse subject. Particular emphasis is given to the physical principles and methods which are important in the design, characterization, and application of supramolecular systems. Features that make this monograph essential reading for graduates and researchers in this area include:
* A comprehensive overview of non-covalent interactions in supramolecular complexes
* A guide to characterizing such complexes by physical methods
* Selected applications of synthetic supramolecular systems
* Question and answer sections
* Illustrations from the Author's webpage which compliment the book.
Table of contents
Basic Concepts of Host-Guest Complexation with Examples from Ionophore Chemistry.

Non-Covalent Interactions and Organic Host-Guest Complexes.

Medium Effects.

Energetics of Supramolecular Complexes: Experimental Methods.

Structural Methods.

Dynamics of Supramolecular Systems.

Surfactant-Based Supramolecular Systems and Dendrimers.

Shape Recognition and Solid State Inclusion Complexes.

Selected Applications.

Appendices.

Index.