Principles of Construction Safety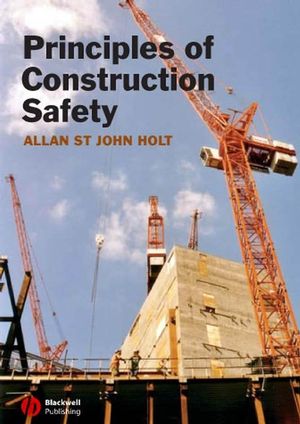 Principles of Construction Safety
ISBN: 978-0-470-68024-7 April 2008 Wiley-Blackwell 288 Pages
Description
The construction industry has not had a good record on health and safety and faces tough legal and financial penalties for breaches of the law.

This book provides a unique resource for all those who construct or procure the construction of projects of all sizes and in all countries and for clients who need to keep abreast of their own and their contractors' responsibilities.

It gives practical guidance on best practice, including:



measuring performance and recording information


developing a safety policy and method statements


assessing risk


training and understanding people


the basics of the construction/environment interface

The book addresses several topics not found in other reference works, discussing techniques of health and safety and basic environmental management as applied to the industry. It uniquely provides 50 quick reference guides setting out solutions to common problems. These include falls, manual and mechanical handling, work with asbestos and noise. It also summarises the main UK legal requirements on construction safety and health and includes a number of useful checklists and model forms.
Written by a very experienced health and safety practitioner, who is also author of the highly successful IOSH book Principles of Health and Safety at Work, this book will be welcomed by all responsible for health and safety. It will also provide an excellent text for the NEBOSH (National Examination Board in Occupational Safety and Health) Construction Safety and Health national certificate.
Introduction; Part 1 Construction Safety Management - Fundamentals; Where are we now?; Measuring performance & recording information; Techniques of construction safety management; The Safety policy; Assessing the risks; Control strategies for construction work; The Health and Safety plan; Training; Meetings; Understanding people; Joint consultation; Access to information; Part 2 Environment, Health and Safety Issues - Construction and the environment; Construction hazards and solutions; Quick reference guide; Part 3 Legal Requirements - Construction Health and safety law; Index
"The author draws upon his lifetime experience in construction-related health and safety to provide the information and the background material important for a full understanding of the issues involved. This book is aimed at every participant in the construction industry needing information and guidance on current and future best practice." from the Foreword by
Sir Frank Lampl, President, Bovis Lend Lease
"a vast amount of information is contained .concise, well written ... an impressive and very satisfactory work." The RoSPA Occupational Safety & Health Journal

"full of valuable advice and practical help in the form of checklists, assessment criteria and so on.... a fine addition to safety publications." Construction Manager
* major financial penalties for construction practitioners who do not take account of good practice in safety
* contains authoritative summaries of major legal requirements, plus 50 practical guides to control measures for common hazards
* covers the new NEBOSH (National Examination Board in Occupational Safety and Health) constructional diploma
* first time in paperback (hardback £49.50 ISBN 0-632-05682-7)