Principles of Day Surgery Nursing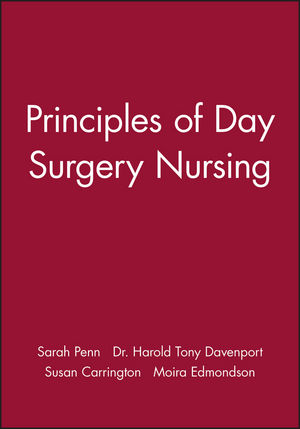 Principles of Day Surgery Nursing
ISBN: 978-0-632-03973-9 November 1996 Wiley-Blackwell 192 Pages
Description
Day surgery is a major innovation in the delivery of medical care to a growing number of patients. It presents many new and unique challenges for nurses. Principles of Day Surgery Nursing provides comprehensive coverage of all aspects of day surgery with which nurses and their support staff will need to be familiar.
Table of contents
The day surgery scene; Day surgery management and organisation; Education in day surgery; Pre-assessment for day care; Patient information; Day surgery perioperative concerns; Discharge procedure and arrangements; Post-operative pain, nausea and vomiting in the day surgery patient; Follow-up arrangements; Quality assurance in day care; The way ahead for day surgery; Appendices; Index
Reviews
"A useful guide for nurses involved with day surgery patients"
"The authors of this book are all pioneers of day surgery and the book provides much basic information for nurses wishing to provide a high quality of care within the speciality"British Journal of Theatre Nursing
"A very good reference"
"I would recommend this book to anyone who is involved in setting up a Day Surgery Unit. Enjoy."Acorn Journal
What's New
* first UK text to cover day surgery nursing * written by an experienced team of nurses and an anaesthetist * promotes importance of patient care and safety before, during and after day surgery